Sofitel Manila Introduces the Rebirth of the New Spiral

Spiral, Sofitel Manila's flagship restaurant, re-launches a brand new dining concept
After an extensive USD 11 million investment, Sofitel Philippine Plaza's legendary flagship restaurant – Spiral, the best buffet restaurant in Manila, will officially re-open on 8 November 2012 and is set to earn a reputation as one of the most dynamic interactive dining destinations in Asia Pacific.
Making a splash when it first opened in 2006, Spiral's dining innovations were a first in Asia and it became one of Manila's most loved restaurants. Dining has never been the same again since. But the new Spiral proves that even a trailblazer can top itself with Sofitel once again taking destination dining to a whole new level.
The new Spiral is divided into 21 dining ateliers. In France, an atelier is an artist's special workshop, and in Spiral it is where secret recipes are masterfully prepared right before your very eyes. The range of cuisines is expansive and the attention and detail to each dish has the focus of an artisan.
Sofitel general manager Goran Aleks puts it best. "We are proud to announce the rebirth of Spiral which is set to revolutionize the art of interactive dining. This has never been seen before in Asia-Pacific and it can be found right here in Manila," he states. "The 21 dining ateliers of the new Spiral reflect the best of the world's cuisines in one magnificent destination. It is Sofitel's vision to showcase not only the best of French culinary heritage but also combine it with the best of Eastern, Western and Filipino cuisine, produce and artistry."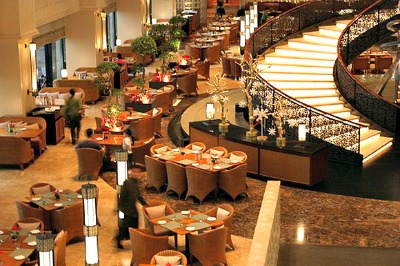 Spiral, Sofitel Manila
Running down the 21 ways Spiral diners will be dazzled, we go from salad and appetizer to l'écailler, sushi and sashimi, l'épicerie, hot Japanese, French stove, rotisserie, wood fired oven, churrasco, North Indian, Asian noodles, peking duck oven, steam basket, Chinese wok, Filipino, Thai, Korean, la boulangerie, la patisserie, chocolaterie and creamery.
As the "piece de résistance," the spotlight shines on Sofitel's French gastronomical roots as showcased in their inimitable French ateliers. La boulangerie boasts freshly made baguettes, croissants and breads of premier quality. The rich selections at the patisserie and chocolaterie are reminiscent of the famous Salons de Thes in France, where enjoying pastries and sweets with your tea is a centuries-old tradition. The French oven atelier focuses on dishes cooked in a traditional royal blue Bonnet oven, where you can expect artisanal foie gras, duck confit, stews and other French gourmet staples. L'épicerie offers a wide variety of the best cheese and charcuterie from France, Italy, Germany and Switzerland.
Of course, for the French no celebration is complete without wine. Spiral's world-class wine cellar reflects Sofitel's Voyage du Vin program, which features the finest wines handpicked from the best vineyards around the world.
A magnifique dining experience is in store for all of you in Spiral.
To book a table online, please go to http://www.sofitelmanila.com/en/spiral.html.
To discover Sofitel Manila, please visit the official website at http://www.sofitelmanila.com.
Sofitel, World Class Hotels & French Elegance
Sofitel is the only French luxury hotel brand with a presence on five continents with 130 addresses, in more than 50 countries. Sofitel offers contemporary hotels and resorts adapted to today's more demanding and more versatile consumers who expect and appreciate beauty, quality and excellence. Whether situated in the heart of a major city like Paris, London, New York or Beijing, or nestled away in a country landscape in Morocco, Egypt, Fiji Islands or Thailand, each Sofitel property offers a genuine experience of the French "art de vivre".
Sofitel Philippine Plaza Manila
Sofitel Philippine Plaza Manila Hotel is a unique 5 star luxury hotel in Manila with a resort setting close to Mall of Asia, Manila Ocean Park, Intramuros, US Embassy, PICC, and major tourist spots in the Philippines. Sofitel 5-star accommodation includes 609 rooms and suites boasting of balconies and spectacular views of world famous Manila Bay sunsets.