Pristine Soccsksargen Treasures Seen to Lure More Tourists
The Department of Tourism (DOT) is hyping up promotions on the beauty of Soccsksargen, offering the region's "unadulterated" treasures to local and foreign tourists alike as it tries to increase the 2017 tourist arrivals by 5 to 10 percent this year.
Sox, short for Soccsksargen, refers to the provinces of South Cotabato, Cotabato, Sultan Kudarat and Sarangani and the cities of Cotabato, Kidapawan, Tacurong, Koronadal and General Santos which comprises Region 12.
The grand expo, organized by DOT 12, together with the Department of Trade and Industry, Department of Agriculture, Department of Labor and Employment, Philippine Information Agency, Tourism Promotions Board and the Local Government Units of the region, showcased the natural and cultural richness, and the fresh and processed bounty of the seas and the land of Soccsksargen.
The event included trade fair, travel fair and sales calls, investment forum and matching, daily shows/cultural shows, fashion show, among others.
DOT Region 12 Director Maria Rica Bueno said the event carries their message that tourists' safety is one of their priorities.
"You know (how) a lot of people see Mindanao, they will always have safety and concerns in their minds, but we won't be here if we think that our visitors will be put at risk in coming to our places. We are inviting you to our home, so we know that you are safe."
Bueno said Sox offers the purest it can give. It is a home of indigenous culture and tradition with direct link to Filipino identity, offering authentic experiences where tourists can immerse.
"I discovered that really, the strength of the region is agriculture and the environment. Personally, I call it unadulterated (place) because it's pure, the culture is very authentic," the regional director added.
Within just three years, latest data for Sox's tourist arrivals doubled from 2.5 million visitors in 2014 to 4.9 million tourists in 2017.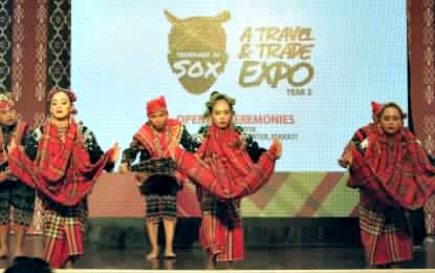 Pristine Soccsksargen Treasures Seen to Lure More Tourists
Since 2014, its number of DOT-accredited establishments also increased twofold from 51 to 102 last year.
Various tourism products can be availed of in this part of the country, from sun and beach tourism, nature-based tourism, marine sports tourism, to cultural, spiritual and historical tourism.
The cultural, spiritual and historical tourism serves visitors the opportunity to experience the well-preserved tribal traditions in the region.
Must experiences are immersion at the Lamlifew Cultural Village and the Lake Sebu Community; a Kule Homestay, Sikat T'boli Homestay, Glan Heritage Tour, and the viewing of Maitum Burial Jars.
The Treasures of SOX is now on its third year, and this 2018, DOT is lining up new activities to further increase tourist engagements the region.
Among these are the holding of the 12th Philippine Bird Festival, Sarangani Bay Festival, and the 2nd CIOFF Festival.
The 12th Philippine Bird Festival, the largest celebration of avifaunal diversity and bird lore awareness will be held on May 10 to 12 in Tacurong City, and is expected to gather birdwatchers, conservationists and nature enthusiasts from at least 20 organizations from the Philippines, Taiwan, Thailand, Malaysia, Cambodia and Nepal.
Wild Bird Club of the Philippines President Willem van de Ven said various kinds of bird species can be found in Tacurong City, making it a hidden gem when it comes to bird watching.
On May 24 to 26, the 2018 Sarangani Festival dubbed as SABAY UNITED, will then feature the best of Southern Philippines.
Chairman Michelle Solon of Regional Tourism Council Region 12 said this will be the biggest beach festival in the entire country, expected to record at least 150,000 in foot traffic.
Meanwhile, for the 2018 CIOFF (Council of Organizations of Folklore Festivals and Folk Art) International Festival, Koronadal on August 11 to 18 will showcase the city as "the regional center for culture."
Koronadal affiliates itself with the International CIOFF in promoting the preservation of cultural identity and serving the cause of peace and non-violence in the region.
"We are strategizing Koronadal as the regional center for culture," CIOFF Festival Director Francis Sablon said in a press conference.
The eight-day festival will be packed with full shows, pocket performances and lecture-demos in Koronadal, neighboring cities in South Cotabato and Tacurong City.
"This is the second time we are hosting the international festival to be represented by 10 different countries and local representations from Luzon, Visayas and Mindanao," Sablon added.
According to Solon, Soccsksargen is no longer an emerging destination, but a must-see destination for all tourists to come.
With four provinces and five cities, "these nine destinations boast its unique and jam-packed adventures from both foods to culture to highlights of different eco-tourism," Solon said.
To get there
There are two gateways to Soccsksargen, one is from General Santos City and the other one from Cotabato City which is the northern side of the region.
It is a three-hour drive from Davao City, but if you are from Luzon or Visayas, you can take the daily flights by Philippine Airlines and Cebu Pacific from Manila to Gensan, or Cebu to Gensan. (PNA/Joyce Ann L. Rocamora/Eleazar Batalla,OJT)