SM Seaside City Cebu; SM Unveils New Regional Landmark In Cebu City
SM Prime Holdings, Inc. (SM Prime), one of the leading integrated property companies in Southeast Asia, opens its new regional landmark, SM Seaside City Cebu, on November 27, 2015.
It is SM Prime's 56th mall in the country, and the third mall within Cebu - along with SM City Cebu and SM City Consolacion.
The new destination mall provides an additional 430,000 square meters (sqm) in gross floor area (GFA), expanding SM Prime's total retail space to 7.3 million sqm in the Philippines.
SM Seaside City Cebu, located within the SM Seaside Complex at the South Road Properties (SRP) in Cebu City, is the first of its kind in urban development in the SRP.
It also promises to revolutionize the malling experience not only in Cebu, but in the whole Southern portion of the Philippines.
"We are inspired by the success of our Mall of Asia Complex in Pasay City, the first lifestyle city project or mixed-use development that offers retail, residences, offices, hotels and convention centers. We are replicating this concept of "lifestyle cities" in Cebu as we open the SM Seaside City mall. We see Metro Cebu as one of our important growth corridors in Visayas and Mindanao following our growth track in Metro Manila," SM Prime President Hans T. Sy said.
The local communities are in for a treat as a new experience in urban living is in store with fresh lifestyle options in food, fashion, entertainment, and more.
The new destination mall will open with 80% of space lease-awarded which serves as the new home to flagship stores of well-known local and international brands. It will also be the venue of unique and world-class events and entertainment.
The shopping mall will have anchor tenants such as The SM STORE, SM Supermarket, Forever21, UNIQLO, Our Home, Ace Hardware, SM Appliance Center, Watson's, The Body Shop, Kultura, BDO Unibank, and Chinabank.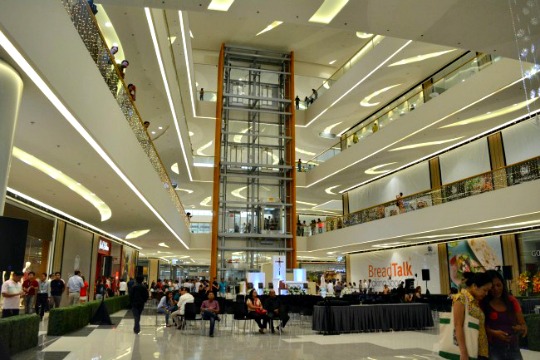 SM Seaside City Cebu via www.interaksyon.com
SM Seaside City Cebu is the newest architectural jewel of SM Prime with its nautilus inspired design of concentric arcs from a central multi-purpose space featuring a "Seaside Tower", a 147-meter iconic viewing tower which offers a sensational panoramic view of the entire city.
A Sky Park provides a unique setting for diverse dining outlets situated in an elevated garden with soothing water features.
The mall will have a skating rink, eight cinemas houses and 5,000 parking slots.
SM Seaside City Cebu is the first of many developments in the 30-hectare SM Seaside Complex.
As the anchor development, it is slated to transform the city's landscape as SM Prime builds residences, offices, an arena, a five-star hotel, and convention centers.
The Complex features "The Cube", a steel sculpture that symbolizes strength and stability of Cebuanos and its consistency reflects SM's continued commitment to excellence.
SM Seaside City Cebu is the sixth SM Supermall to be opened this year, after SM Center Sangandaan, Cherry SM Shaw, and SM City Cabanatuan that recently opened last October 23, October 13 and October 9 respectively.
To date, SM Prime has 56 malls in the Philippines and six in China with an estimated combined GFA of 8.3 million sqm.
SM Prime remains committed to its role as a catalyst for economic growth, delivering innovative and sustainable lifestyle cities, thereby enriching the quality of life of millions of people.