35th Sinulog Festival in January 2015 to be the Grandest Ever, Organizers Say

The 35th Sinulog festival on January 18, 2015 (Sunday) will be the biggest and grandest ever in its history, according to its organizers.
"It will be something that the crowd will look forward to," Sinulog Foundation Inc. (SFI) executive director Ricky Ballesteros said.
Ballesteros said the Sinulog Grand Parade 2015 would be longer than in the previous years.
He said the foundation has chosen a festival theme that focuses on the Basilica Minore del Sto. Nino and pays tribute to the Augustinian community, which is celebrating its 450 years of presence in the Philippines.
It will be the first time for the cultural and religious aspects of the Sinulog to have the same theme, he said.
"It will be a celebration of faith in the form of dance," Ballesteros said.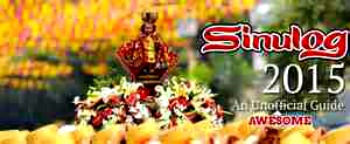 Ballesteros said the foundation is almost done with preparations for the Sinulog 2015, including the stage where the contingents will showcase their final dance during the grand parade.
Ballesteros said the Sinulog 2015 stage featuring the facade of Basilica del Sto. Nino will be the biggest so far.
Around a thousand dancers and performers from different schools in the city will also join the grand finale.
The grand finale, Ballesteros said, will let the audience see the beginnings of Christianity in Cebu.
"It will be the most exciting performance for Sinulog," he said.
But Ballesteros said the Sinulog will not compete with the visit of Pope Francis in Tacloban and Manila.
Pope Francis will be in Tacloban City on Jan. 17 to meet survivors of typhoon "Yolanda" and the magnitude 7.2 earthquake.
The disasters also affected Cebu, but the Pope will not be coming here.
The Pope's visit in Tacloban coincides with the fluvial procession of the image of the Sr. Sto. Niño in Cebu, which will begin early in the morning and will be followed by a foot procession.
Pope Francis will be in Manila during the Sinulog Grand Parade to meet church leaders and to celebrate Mass at the Rizal Park before leaving the country.
He said the Sinulog Foundation is planning to put up projector screens in some portions of the parade route and at the Cebu City Sports Center to show a telecast of the Pope saying Mass in Manila. (PNA) SCS/EB/