New Singapore Airlines VIP Lounge Opens at NAIA Terminal 3
Singapore Airlines' VIP lounge at the Ninoy Aquino International Airport (NAIA) Terminal 3 may have delayed flights of travelers following the unveiling of its new SilverKris Lounge.
With its design that resembles a familiar living room with various art pieces, and food and beverages that are familiarly Singaporean and Filipino, guests can expect waiting for flights to be much less of an ordeal than usual.
SilveKris Lounge measures 450 square meters, with seating for approximately 117 people. Its foyer, with screens marked with traditional batik motif are among the touches designed by Singapore-based design agency ONG&ONG.
It features a gallery, living room and dining room for rest and relaxation. Guests can also make use of specially designed productivity pods, coupled with WiFi connection, electric sockets, and USB ports.
During the unveiling ceremony, Singapore Airlines Regional Vice President for Southeast Asia Philip Goh said that it was significant for the lounge to open as the airline company marks its 49th year of operation in the Philippines this year.
"Manila is very honored to be the fourth station in the global network to be having this new concept lounge," Goh said in his speech. The Philippine capital comes after Sydney, Hong Kong, and London, respectively.
"It is also the first in Southeast Asia to have this new lounge," he added, noting it is part of the airline company's multi-million dollar investment to renovate its 15 lounges across the world.
Goh also spoke of the Philippines being an important market for the airline company as it "represents traditional warmth and hospitality."
Singapore Ambassador to the Philippines Kok Li Peng for her part stressed the unveiling of the lounge is proof of the Philippines being a worthwhile investment.
"The Philippines is the new regional gateway and the new regional destination. We are benefiting tremendously from open skies," Peng said.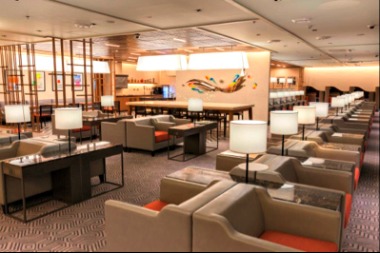 Singapore Airlines' VIP Lounge via inquirer.net
"For one, the Philippines is now the go-to destination of Singaporean tourists as well as all international tourists interested in seeing new beaches. Similarly, the Philippines is discovering Singapore," she added.
Department of Finance Secretary Cesar Purisima meanwhile mentioned how the unveiling of the lounge gives a vision of how NAIA can "step-up" with collaborative efforts of public and private sectors.
Purisima, who is also a Singapore Airlines frequent flyer also noted how the lounge can significantly improve traveler experience and praised the lounge's paintings and sculptures by Filipino artists.
Department of Transportation and Communications (DOTC) Undersecretary Jose Perpetuo Lotilla vowed that the investment of Singapore Airlines will "not come to naught" as the Philippine government will continue to exert efforts to improve the country's airports.
"As Singapore Airlines has invested its faith in the country and NAIA Terminal 3 by putting up this beautiful lounge, we should reciprocate that the investment," Lotilla said, "(It's) not just about travelling but having an excellent experience through NAIA Terminal 3."
Finally, Department of Tourism (DOT) Undersecretary Benito Bengzon Jr. noted how upgrades on airline company products and services is always a welcoming development for Philippine tourism, which is dependent on air access.
"Of the five-million foreign visitors that came to Philippines last year, 75 percent entered through Manila so Manila continues to be our window to the world," Bengzon said.
"We are hoping that this new-concept SilverKris Lounge will be the showcase for Philippine tourism for the global market," he added.
SilverKris Lounge is located at Level 3 in boarding gate 114 at Terminal 3. Access is given to Suites, First or Business Class passengers, or PPS Club and KrisFlyer Elite Gold members departing on Singapore Airlines operated flights.
Meanwhile, lounge entitlements for travelers on codeshare flights meanwhile depend on the rules of the airline operating the flight. (PNA) CTB/Azer N. Parrocha