Silay Ancestral Home From 1930s is City's Newest Bed-and-Breakfast

While most of the heritage houses in Silay City, Negros Occidental have been converted into museums, one of which opted to take the less explored option by turning into a charming bed-and-breakfast (B&B).
The German Unson Heritage House, located at No. 5 Zamora Street in Silay City, opened as a B&B on June 11, 2016. It has already welcomed both domestic and foreign tourists—the most recent ones being Japanese.
Built sometime in 1938, the two-storey Neo-Spanish style-house underwent renovations in mid-1970s restoring the house to its original design.
It was home to husband and wife, the late German Locsin Unson and Fe de la Rama Ledesma-Unson before it welcomed guests for overnight stays.
According to the Unson couple's youngest daughter Cristina Unson-Lacson, when the Japanese arrived in Negros before the second World War, their family evacuated and left the house vacant.
"Japanese troops occupied the house but fortunately, left it unscathed. In the later years, renovations were made and extensions both on the ground and second floors were made to accommodate the family's needs," Cristina said.
She explained that the house was later bequeathed to the eldest and youngest daughters Ma. Lourdes and herself—Cristina—with the stipulation that it would later go to their grand-daughters, Chell and Marni.
"Marni who took up Interior Design made the present renovations and except for retaining the extensions to the big bedroom upstairs and the masters bedroom downstairs, restored the house to its original design," Cristina said.
The house, which is among the 29 other heritage houses in Silay City, was officially declared as a heritage house by the National Historical Institute on April 6, 1993.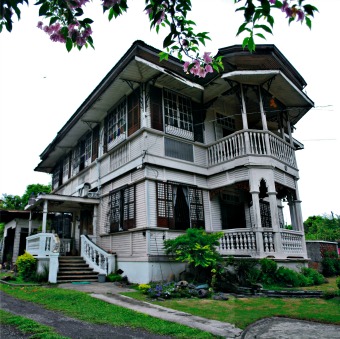 German Unson Heritage House, Silay, Negros Occidental, Philippines
German and Fe
As one half of the Unson couple, Fe de la Rama Ledsma-Unson was the granddaughter of the original owner of the house who was also one of the few doctors that time, Dr. Lope de la Rama. He later left the house to his granddaughter Fe after her mother, Adelaida died at a very early age, Cristina said.
The original house was made of wood and built closer to Zamora St. It had a veranda in front. The family also kept a carriage pulled by horses as their mode of transportation.
On the other hand German Locsin Unson came from a lineage of prominent Silaynons. His mother, Nieves Locsin, was the daughter of the Spanish times' revolutionary leader Leandro Locsin while his father, Miguel Yulo Unson, is known as the "Father of the Philippine Budget System", a system he established, even before that of the United States, when he was President Manuel Quezon's Undersecretary of Finance, Cristina said.
German's father also held other positions in Quezon's government but asked to resign so he could earn a decent income for his family, after years of service in government.
"During those times, government leaders were more of statesmen, honest men who were in government to serve their people. An example I always remember is his refusal to let even my grandmother ride his official government car," Cristina recalled.
He was later known as Executive Vice President and General Manager of Sugar Producers Cooperative Marketing Association (SPCMA) before his retirement.
B&B
Today, the house welcomes guests from across the country and world with a promise that the stories of the Unson couple and his children will be retold.
German Unson Heritage House manager, Rolin Siglos said that the house has four bedrooms: the German-Fe Room, the Rene Room, the Lourdes Room and the Carmen-Cristina Room.
Siglos said that the German-Fe Room which is also the master bedroom is named after German Unson and his wife, Fe. The Rene Room used to be German's study, and is named after his and Fe's only son.
Meanwhile, the Lourdes Room is named after their eldest daughter affectionately known as "Uding". The Carmen-Cristina Room is named after their middle and youngest daughters, respectively, he said.
The house, which can accommodate as many as 12 guests, also comes with a veranda overlooking a garden.
Rates for the rooms range from PHP1,600 to PHP1,800 which includes air-conditioning, hot and cold water, bathrooms and free Wi-Fi access.
Siglos said that the house does not yet offer lunch or dinner but allows guests to bring their food inside. Guests can also visit nearby restaurants in Silay or Bacolod City.
Interested guests may inquire through (034)432-2943 between 9:00 a.m. and 5:00 p.m. or find The German Unson Heritage House on Facebook. (PNA)JMC/Azer N. Parrocha