Siargao Philippines Gears Up for Int'l Game Fishing Tournament in Surigao del Norte
Siargao Philippines holds an annual three day International Game Fishing Tournament which is held in May in Pilar town in this scenic and paradise Siargao Island.
Organizers of the tournament announced that more than 100 foreign and local anglers have already manifested their commitment to participate and catch the largest bony fish in the
open sea off the northeastern tip of the Caraga Region composed of the provinces of Surigao del Norte, Surigao del Sur, Agusan del Norte, Agusan del Sur, and Dinagat Islands.
Officials of the Department of Tourism (DOT), the First District of Surigao del Norte, the municipal government of Pilar and the Siargao Philippines Game Fishing Tournament said the Philippine President is expected to witness the big affair and hand out the prizes of almost 500,000 (half-a-million) pesos to the anglers who will tally the highest weight points and heaviest catch during the three-day international tourney.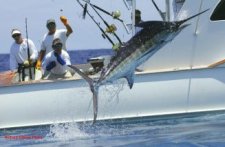 The symbolic throwing of a fishing rod in Siargao waters will mark the launch of this province's bid to become a favorite destination of local and international anglers.
The organizers said that as of now, foreign anglers from Australia, Canada, Malaysia, Russia, Taiwan, the United States and other Asian countries have already signified their eagerness to participate in the big fishing sea tournament.
Siargo Island's niche as one of the best surfing sites rides on the crest of its powerful rollers or waves including the "Cloud 9," which is considered one of the world's top surfing waves.
Moreover, the island's centuries-old eco-system is a rich breeding ground for marine life such as marlins, groupers, rays, octopuses, tuna, crabs and squids.
Aside from its attributes as a surfing and game fishing paradise, Siargao Island also boasts of 8,760 hectares of mangroves, the biggest in the country, pristine white sand beaches, and tropical marine life within a rich, long stretch of coral reefs.
Various infrastructure projects costing more than P400 million, including roads and airport development, are ongoing to make Siargao Philippines, a scenic island, more accessible to both domestic and foreign tourists.

<!- BEGIN RSS Buttons -->




[

?

] Subscribe To This Site

<!- END RSS Buttons -->



Return from Siargao Philippines to Home