Shark Summit set for November in Dumaguete City
Dumaguete City will be the venue for the 2nd National Shark Conservation Forum (Shark Summit) from November 9 to 11, this year, according to the conservation group Save Sharks Network Philippines (SSNP).
As a prelude to the Shark Summit, the SSNP, along with its partners will be participating in an exhibit at the Sidlakang Negros showroom in Dumaguete City during the Buglasan Festival to drum up awareness on marine conservation.
The SSNP reported in a media release Thursday that thresher sharks are finally listed into Appendix II of CITES or the Convention on International Trade on Endangered Species of wild flora and fauna.
It earned 108 votes against 29, while five abstained, said SSNP.
In addition, all mobula rays and the silky shark have also been listed in Appendix II.
The Philippine delegation, led by the Department of Environment and Natural Resources (DENR) Undersecretary Atty. Ernesto Adobo, was the first among the parties to intervene and champion the listing of thresher sharks into CITES, the group said.
"We could not have accomplished this without your help. Thank you for our ardent support. As our thresher shark campaign comes to a close, we would like to ask our member organizations to SSNP for their recommendations in how we can move forward and properly implement protection for Alopias spp., Carcharinus falciformis and Mobula spp. throughout the country as the listings to CITES Appendix II will come into effect in October 2017", the group added.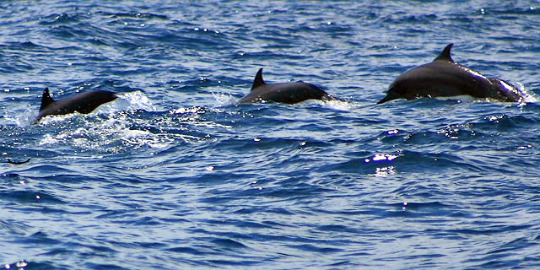 Tañon Strait
The BFAR's main concern would be the difficulty in tagging and identifying shark species, as they have already admitted that they lack the manpower, equipment and expertise to do so, SSNP noted.
According to the group, during the Shark Conference held last August 23, they were made aware of small communities in Bohol that were heavily reliant on the fishing and trade of Mobula spp. as their only source of income.
"As much as possible, we would like to hear everyone's thoughts on what course of action we can take in order to help the government fully implement shark protections, as well as give communities an alternative source of revenue," said SNPP.
Meanwhile, Harold's Dive Center, in collaboration with marine conservation NGOs, will be having an exhibit featuring the beauty and diversity of Philippine marine and coastal habitats as part of the Buglasan Festival 2016.
This is in cooperation with the local government unit of Dauin (in Negros Oriental) and the community of Apo Island to raise awareness on marine conservation, said Harold Biglete of Harold's Dive Center.
"We will be having an exhibiti on the amazing marine life of Dauin and ow we can help protect them and minimize tourism impacts", Biglete added.
Thresher Shark Foundation will be focusing on raising awareness on the importance of Thresher sharks while Oceana Philippines will be mounting an exhibit on the campaign to save the Tañon Strait Protected Seascape and to end illegal commercial fishing in this protected area, Biglete said.
Tañon Strait lies between the islands of Negros and Cebu and is the country's largest marine protected area.
It was reported recently that fishermen at Tañon Strait had killed some thresher sharks, sparking concern among the conservation groups and law enforcement authorities. (PNA) LAP/jfp/PR