Samar Now Ready for Summer Tourism Launch

A Grand Night with the Samar Sky kicks off the biggest summer fun launching in the region dubbed "Summer sa Samar" on April 18, which will be followed by a three-day familiarization of the tourism-ready destinations for the local and national tri-media, travel bloggers and tour operators .
Samar Governor Sharee Ann T. Tan spearheads the summer fun campaign program in collaboration with the Department of Tourism (DOT) regional office.
According to Brett de los Santos, tourism development officer for Samar, the province is positioning as the next top tourist destination in the country, building a new image sans the impressions of being an insurgent, typhoon-prone, poorest of the poor province among the negative impressions the past decades.
He said that Tan is creating a unique brand for Samar with its rich culture and heritage, delectable cuisines and abundant natural resources and enhance a sense of local pride of places among people of Eastern Visayas.
The grand launching on April 18 will have a neon street party featuring Marco Lobregat, Manila DJs Tom Taus and Kevin Ruiz and some local talents at the provincial capitol grounds with fireworks display.
There will be food kiosks featuring Samar's local cuisines and delicacies and a showcase of Samar songs and dances.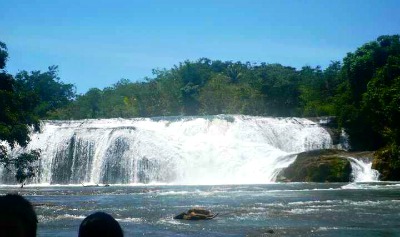 Lulugayan Falls, Samar
The tour will cover the loop in the towns of Sta. Rita, Marabut, Basey and Paranas.
In Paranas, the guests will experience the exciting white water-rafting called Ulot Torpedo Boat Adventure at Ulot river with experienced boatmen.
They will marvel at the 841-hectare Sohoton Natural Bridge and National Park in the municipality of Basey, with its its rich flora and fauna, geological wonders at the Panhulugan I &II caves and the natural stone bridge that is connected by two mountain ridges.
The guests can also try the traditional art of mat weaving which Basey is known for, at the Saob Cave just along the highway in Basiao village.
Kayaking to the grandeur of rock islets of Marabut town and frolick in Marabut white beaches, be mesmerized by the beauty of San Juanico bridge on the Samar side and view the Yolanda memorial at Sta. Rita municipality.
Samar is the third largest island in the Philippines. It is subdivided into three provinces covering Northern, Eastern and Western Samar or simply Samar.
It is home to the Philippine Eagle, where it was first sighted in the 18th century. Host also to one of the largest caves in Southeast Asia, the Calbiga Caves in the town of Calbiga.
Also in Calbiga is the Lulugayan Falls, a Niagara-like waterfalls.
The list of beautiful destinations in Samar is endless.
Catblogan City is the trade center of the Samar province and is an hour and a half hour ride from Tacloban City, the regional hub of Eastern Visayas.
"War is a thing of the past in Samar. We should help rebuild Samar and the rest of the region through ecotourism," said DOT Regional Director Karen Tiopes of the department of tourism. (PNA) FPV/SQM/VICKY C. ARNAIZ/EGR