Life's a Beach: Artist From Sagay City Turns Beach house Into Cafe-Art Gallery
-- A colorful café-art gallery directly facing the sea is slowly turning into Sagay City's go-to place for people of all walks of life – tourists, students and fisher folk — to drink, paint and talk about everything under the sun.
Located in Margaha Beach Resort, Barangay Old Sagay in Sagay City, "Kape Albarako" is a 45-square-meter beach front property owned by 66-year-old artist, Nunelucio Alvarado, who himself hails from Sagay.
The art-gallery, which is built using bamboo sticks, is an artwork on its own since it is painted by Alvarado with the help of his children, to appear like a mural depicting the colors red, white, blue and yellow.
Alvarado said that the Kape Albarako started as a beach resort, but was eventually turned into a café-art gallery after he realized that he needed a studio to paint in and that the people who frequented the place usually came just for coffee and an early morning chat.
"Fisher folk and sugar farmers would often visit early in the morning to have coffee with me before they work. They would tell me about their frustrations and that motivated me to paint," Alvarado shared.
"I get new ideas from observation and when I interact with the community. My paintings are inspired by the conversations we exchange in the coffee shop," he added.
Just like most artists, Alvarado shared that he had been drawing ever since he was a young boy. His father, who was a signboard painter, would often ask him help in finishing his work.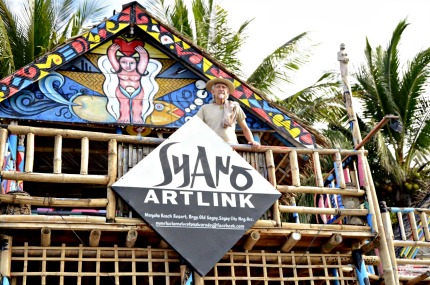 In primary school, his classmates would pay him to complete their art-related homework if it involved drawing or painting. He said that he no longer needed to ask for "baon" from his parents this way.
At present, Alvarado is known for his progressive works of art that depicts faces of plight and struggle of Negros-based laborers. He is also founder of artist organizations such as Pamilya Pintura, Pintor Kulapol and the Art Director of Syano Artlink (syano, which is short for "probinsyano").
Moreover, he has also represented the Philippines in several art shows in Australia in 1992, Singapore in 1996, Japan in 1997 and San Francisco, USA in 1998 yet still chooses to live a modest life by the beach.
Kape Albarako is home to some 100-plus paintings, most of which painted using bright colors. It also serves coffee and Negros Occidental sweet delicacies best paired with coffee including piaya, barquillos or whatever is available.
Alvarado said that the café-art gallery opens at 6:00 a.m. and closes at 6:00 p.m. unless friends come over to visit for drinks and heart-to-heart talk. He also welcomes students who study fine arts or others who just want to know how to paint.
Without discouraging students from pursuing a major in fine arts, Alvarado said that he would tell them that the best place to learn is not inside the four corners of the classroom, but outside. Alvarado himself studied BS Fine Arts at the University of the Philippines-Diliman, but never finished.
He describes his trademark as "stark frontality of all his figures re-calling Egyptian paintings with their hieratic presentation of bodies and faces."
Every now and then, Alvarado would fly to Manila to attend art exhibitions where his paintings would be featured. He, however, said that he tries not to do it as often to have more time to focus on his second love after his wife — painting. (PNA)RMA/Azer N. Parrocha