National Philippine Hero - Travel (Lakbay) Jose Rizal Life 'Heritage Trail'

Tour the country on the Jose Rizal Life 'Heritage Trail'
In line with the approaching 150th birth anniversary of the Philippine hero Dr. Jose P. Rizal, the Department of Tourism (DOT) as of late cooperated with the National Historical Commission of the Philippines (NHCP), Heritage Conservation Society, National Parks Development Committee, Intramuros Administration and Cebu Pacific to push for tourists to visit and rediscover Jose Rizal life sites throughout the country.
The Lakbay Jose Rizal @ 150 is a tourism heritage campaign focused on the life of Rizal. DOT Secretary Alberto Lim said every Filipino should make use of this chance to get to know better the Philippine national hero and at the same time, value the important places in his life.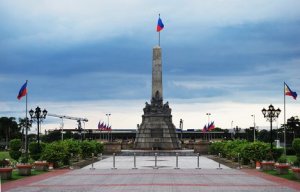 Jose Rizal Life Monument - Manila
Lim also welcomed foreign tourists to take part and share in the country's self-respect.
"With greater tourist traffic to these areas, the plan helps spread the economic gains to the host communities," said Lim.
According to the NHCP, local and foreign tourists will have to visit the sites highlighted in a pamphlet and have it (brochure) stamped as proof of your visit.
Stamp sites are located on-site where the conservators can stamp the brochure or passport. Other stamp sites will be located in DOT regional offices.
The first 100 travelers to visit the 27 Rizal sites can give their stamped brochure to the NHCP to receive a chance to win a token and the official Kalakbay ni Gat Jose Rizal certificate. The Lakbay Jose Rizal @ 150 token and certificates are valid only from June 19, 2011 to June 19, 2012.
Locations and Stamp Sites
National Capital Region
1. Prison Cell and Rizal Shrine, Fort Santiago, Manila
2. Chapel Cell of Rizal, Fort Santiago, Manila
3. Site of the Ateneo Municipal de Manila, Anda cor. Sta. Lucia St., Intramuros, Manila
4. Site of the University of Santo Tomas, Banco Filipino Building., A. Soriano cor. Solana Sts., Intramuros, Manila
5. Site of Trial of Rizal, Pamantasan ng Lungsod ng Maynila (PLM), Gen. Luna cor. Muralla St., Intramuros, Manila
6. Rizal Park, Roxas Blvd, Burgos, Kalaw and Taft Avenues, Manila
7. Rizal Life Monument, Roxas Blvd, Manila
8. Rizal Execution Site (Light and Sound Museum), Roxas Blvd, Manila
9. Rizal Fountain, Roxas Blvd, Manila
10. Paco Park, San Marcelino and Gen. Luna Sts., Paco, Manila
Region III - Central Luzon
1. San Fernando Train Station, Brgy. Sto. Niño, San Fernando, Pampanga
2. Kamestisuhan District (Women of Malolos Marker/ Bautista House), Sto. Niño St., Malolos, Bulacan
Region IV – Calabarzon
1. Rizal Shrine, J.P. Rizal St., Calamba City, Laguna
2. Calamba Church (San Juan Bautista Church), J.P. Rizal St., Calamba City, Laguna
3. National Shrine of our Lady of Peace and Good Voyage (Antipolo Church), Oliveros St., Antipolo City
Region V - Bicol Region
1. Rizal Monument, Magallanes and Justo Lukban Streets, Daet, Camarines Norte
Region VI - Western Visayas
1. Molo Church (St. Anne's Parish) and Escolta, Jocson and San Marcos Sts., Molo District, Iloilo City
Region VII - Central Visayas
1. Dumaguete City
2. Fort San Pedro, Pier Area, Cebu City
Region IX - Zamboanga Peninsula
1. Rizal Shrine and Waterworks of Rizal, Barangay Talisay, Dapitan City
2. Dapitan Plaza, Dapitan City, Zamboanga del Norte
3. Site of the Casa Real, Barangay Talisay, Dapitan City, Zamboanga del Norte
4. Dapitan Church, City Hall Drive, Barangay Sta. Cruz, Dapitan City, Zamboanga del Norte
5. Relief Map of Mindanao, Dapitan City, Zamboanga del Norte
6. Santa Cruz Beach, Punto del Disembarko de Rizal en Dapitan, Sunset Boulevard, Dapitan City
7. Dipolog Cathedral, Dipolog, Zamboanga del Norte
8. Rizal Farm, Katipunan, Zamboanga del NorteW
For more information, please visit the DOT website at www.tourism.gov.ph or the NHCP website at www.nhcp.gov.ph. (DOT/NHCP/PIA-NCR/RJB/Jell Guzman)( Jose Rizal Life )