Radisson Blu Cebu Bags Hotel of the Year Award

Radisson Blu's first hotel property in the Philippines and in Southeast Asia bagged the Carlson Rezidor Asia Pacific Hotel of the Year Award, besting 58 hotels in the Asia Pacific this year.
Radisson Blu Hotel Cebu general manager Lyle Lewis said the hotel's recognition proves that they have been competing strongly in the industry during their two years of operation in the country.
Lewis said the recognition was based on a whole range of criteria that include profitability, employee and customer satisfaction and feedback reflected in the social media in the past year.
"The hotel scored high not just in one aspect but scored very high in all areas," Lewis said.
He said the hotel team is optimistic about growth this year following the recognition it got and on the back of Cebu's healthy tourism industry.
He noted it takes about five years of operation for a new property to stabilize operations and become profitable.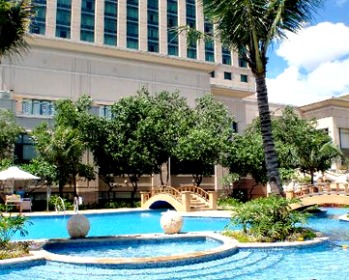 Radisson Blu Cebu
"We have stabilized quickly and we are quite successful in the first two years of operation. We are aiming to continue the growth we have started and eventually achieve that fair market share in the industry," said Lewis.
The Radisson Blu Hotel Cebu offers 400 rooms and suites, an in-house spa, fitness center, business center, and a swimming pool.
The hotel is jointly owned by SM Investments Corp. through SM Hotels and Conventions Corp. and Carlson International.
Lewis said they aim to be the top hotel for the leisure, corporate and Mice (meeting, incentives, convention and exhibition) markets by delivering improved hotel services.
Lewis said Cebu's local governments should extend support to the hotel industry by improving tourism infrastructure and attraction.
"Continued improvement in the tourism and hotel industry calls for a joint effort by both private and government stakeholders," said Lewis.
He said international access is also important to lure more foreign tourists to visit Cebu.
Lewis said he hopes that Qatar Airways would soon revive flights to and from Cebu. Lewis noted majority of the hotel's guest are from the domestic market.
Foreign tourists from the United States, Korea and Japan are also the hotel's feeder markets. Radisson Blu Hotel Cebu is also gearing up for the holidays when "balikbayans" or Filipino returnees are expected to stay in hotels.
"We are looking at Filipino returnees from countries like North America and Australia to come home for the Christmas holidays," he said.
In addition, if you are planning on visiting Tokyo be sure to stop by the Radisson Narita to experience superior service. (Eddie Barrita/PNA)CTB/gb