Philtoa Picks Albay Anew Among Top Summer Destinations

The Philippine Travel and Operator's Association (Philtoa) has once again picked Albay as among its top summer destinations.
The province remained among the top tourist destinations in the country in 2014 with a recorded 7.1-percent share of foreign arrivals.
Philtoa president Cesar Cruz said that other than the "sights and activities" as part of the major considerations in selecting top summer destinations, the organization also considers the local government's political leadership and its commitment in providing a sustainable tourism program.
Governor Joey Salceda, banking on Albay's global standard tourism destinations, has embarked on a strong and holistic program, which involves the province's cultural heritage from historical religious edifices, old roads and houses, to ethnic culinary wealths, branching out most recently to sports tourism.
As a result, Albay's domestic arrivals have doubled during the first three months of 2015 based on gate receipts at the Albay Parks and Wildlife, a favorite destination of local visitors, and a 40 percent increase in the number of visitors at the Cagsawa Ruins Park.
Albay will hold its Daragang Magayon Festival 2015 last week of March and the whole of April, with culinary tourism on the spotlight, and where famous chefs around the country will meet local talents for a gastronomic showdown.
Salceda was among the initial recipients of the Tourism Star Award by the Department of Tourism (DOT) for 2014, for exemplary excellence and dedication in driving the Philippine tourism industry forward, under the Tourism Star Philippines (TSP) program.
Philtoa has invited Salceda to speak at the organization's 2nd general membership conference on April 8 to discuss updates on Albay's summer holiday program, highlighting recommended destinations. Philtoa had declared Albay as its 2013 summer destination.
Salceda said Albay's strong position in the industry and the continuous upward trend in its performance has further opened up more opportunities for investors in the hotel business, where more competitively priced rooms are needed to accommodate the growing numbers of tourists.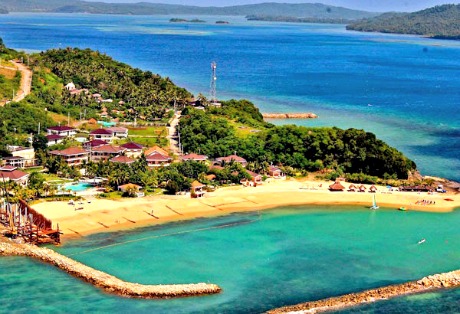 Misibis Bay Resort - Cagraray Island, Bacacay, Albay
He said the "key is cheap accommodations and the key to cheap accommodations is more rooms, not just in Legazpi but in Daraga, Tabaco, Camalig, Guinobatan, Polangui, Sto. Domingo, Bacacay. This should get Albay into the budget domestic tour packages."
Albay, Salceda said, has already laid down the requirements of a strong tourism program: robust year-round national promotions — most specially in social media, increased domestic flights, road access which are among the best in the country), and improved sea travel with the ROROs (Matnog, Bulan, Pioduran, Tabaco, Legazpi).
More tourists mean more demand in food and souvenir items, and activities, which should be priced competitively enough for domestic tourists, he said.
The province was declared the fastest growing tourism area in the country in 2013, with a 66-percent growth rate, way up the national figure and dubbed as a "tourism powerhouse" by the DOT. It "will likely lead in the next major wave of the country's tourist inflow."
Albay has emerged from being a disaster-afflicted to a dynamic province with a phenomenal tourism growth, from 8,700 foreign visitors in 2007 when Salceda assumed its governorship to 339,000 in 2013. The number has consitently remained above 300,000 since 2011 and has steadily increased.
DOT has continuously showcased Albay in many international tourism expositions, the latest of which was the 2015 Marche International Proffesionels d'Immobilier, an annual show participated in by influential property players worldwide, at the Palais des Festivals in Cannes, France March foreign 10 to 13, and the Manila FAME, March 13-16, the design and lifestyle event, trade platform for exports and design.
Albay is also pushing culinary tourism as among its most recent attractions. This will kick off with a showdown of the country's famous chefs April 27 – 29 in support of DOT's Flavors of the Philippines campaign and at the same time farther promote the province's ethnic cuisines.
Various international and national tourism promotions where Albay was featured by DOT included the Berlin ITB 2012 in Germany, the London WTM 2013, Shanghai TM 2013, DOT Hongkong 2014, and special events of the Philippine Asia Travel Association and the Philippine Travel Operators' Association. (PNA) LAP/JCN/EBP