5th National Philippines Skimboarding Competition in Tanauan, Leyte
All is set for the 5th National Philippines Skimboarding Open Competition at the Skimboarding Capital, Tanauan, Leyte, which is being sponsored by the local govt of Tanauan, the Provincial Government of Leyte thru Governor Carlos Jericho Petilla and Victoria's Skimboard, Mayor Roque A. Tiu informed.
The Philippines Skimboarding Open Competition is scheduled to be held on December 27-30 at the Bantay Dagat Area, in Barangay Sto. Nino in Tanauan. He clarified that the holding of the Competition in December was thought of, because it is believed that there are better waves in December and so the skimriders will enjoy the competition better.
It may be recalled that the Skimboarding Competition has usually been conducted on Easter Sunday, Mayor Tiu said, when there are many beachcombers visiting the shores of Tanauan.
However, since last year, the National Skimboarding Competition has been held in December, after Christmas and right before New Year.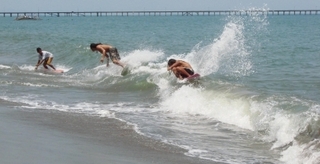 The participants for this season's competition, are being limited to to make the competition easier and more manageable.
Mayor Tiu added that skimriders from Luzon have signified their intention to join the competition.
This is a welcome development, Mayor Tiu said, because in the past, the local participants were all from the Visayas and Mindanao areas.
Mayor Tiu informed that the 5th National Philippines Skimboarding Competition will formally kick-off on December 27 but the nightly activities at the Site will start on December 20 as the local government decided to hold the annual Kaadlawan Festival there.
The Opening Program will be held on December 27, at 1:00 o'clock in the afternoon.
Mayor Tiu said that the National Skimboarding Competition is the town's contribution to President Gloria Macapagal Arroyo's thrust of making the Central Philippines Super Region as the Tourism Capital of the Philippines.
The public is invited to participate or witness the event which is becoming a tourist-attracting activity in the Region.
The 5th National Skimboarding Open Competition will be supervised by the Philippine Skim Association and the Tanauan Pasaka Jaycees.