Paradise to Him who Made This Philippine Wine Great…!

Crispulo Baylon was in his mid-90s when his grandson Hercules saw him raising his eyes with each rising sun with a coconut shell of "basi," a fermented alcoholic beverage from sugar cane popular in the Ilocos and Cagayan Valley.

Northeast of their hometown of Pinili, men in their 20s gather during a weekend wedding in Lagawe and bountiful harvest in Bontoc and enjoy the rice wine, popularly known as "tapuy," a traditional beverage which originated from Banaue and Mountain Province.
In Atimonan, Quezon, cousins Antonio and Pablo and their friends gather at twilight for a taste of their "lambanog" wine made from coconut they claim and the generations before them as potent with its 80 to 90 proof alcohol variations.
In Minglanilla, Cebu, south of the provincial capital, some homeowners at Vel Pal Estate take pride in their tuba they claim, following oral tradition, was tasted in the 16th century when Ferdinand Magellan and his men were guests during a local feast with tuba-filled earthen jars before them.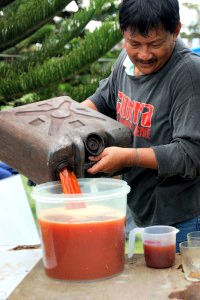 via http://lambanog.org/coconut-wine/
The drinkers of the different Philippine alcoholic wines – "basi, tapuy, lambanog" and "tuba," to name some of the indigenous wines – raise their glasses, cups or coconut shells for different reasons and at different occasions.
For the wines form part of the food they partake during simple or sumptuous dinners during special occasions like town fiestas, weddings, baptismal rituals and harvest seasons.
According to Baylon, who has a straight spinal column despite his age and a great story teller to his grandchildren and great grandchildren, drinking "basi" helps him celebrate the blessings of the food he harvests from his own farm, planted to rice and vegetables as well as garlic, onions and the Virginia tobacco variety in summer.
A coconut shell of "basi" at breakfast and another at dinner, usually of "pinakbet" and some fisherman's platter, which includes octopus and lobster, normally makes his day before he makes the sign of the Cross in bed.
Baylon likes to narrate to his audience the story of the 1807 Basi Revolt in Piddig, northeast of his hometown, also in Ilocos Norte, when the country's Spanish rulers effectively banned private manufacture of the beverage.
In San Ildefonso town in Ilocos Sur, south of Pinili, as in other "basi"-producing towns of the Ilocos, sugar cane juice extracted through a wooden mill is boiled in vats and then stored in earthen jars. In Naguilian, La Union, farther south, an annual Basi festival is held which has become a tourist come-on for the town.
Once the juice has cooled, flavorings made of ground glutinous rice and java plum bark or other fruits or barks are added.
The jars are then sealed with banana leaves and allowed to ferment for several days. The resulting drink is pale red in color. If fermented longer, it turns into "suka" or vinegar.
The rice wine "tapuy," used for important occasions like weddings, rice harvesting ceremonies, fiestas and cultural fairs, is produced from either pure glutinous rice or a combination of glutinous and non-glutinous rice together with onuad roots, ginger extract, and a powdered starter culture locally known as "bubod."
Guests to these important events, including writers from GUMIL Filipinas, the Ilocano writers national association, have been treated to this "tapuy" hospitality on various occasions – with the writers going away in gratitude.
Considered as the ceremonial wine served during special occasions, residents can produce "tapuy" rice wine inside their homes – which means the local wine is also absorbed heavily by them daily.
This local wine from fermented rice is also produced in the other Cordilleras, particularly in Apayao, Benguet, Kalinga, and Mountain Province. Other names for "tapuy" in these parts are "tapey" or "bayah."
In Quezon province and other areas producing "lambanog," hosts and guests have a taste of the production process, which involves collecting the sap from the coconut flower, similar to rubber tree tapping.
Hosts say the sap is then cooked and fermented to become "tuba," a popular coconut toddy. The "tuba" is then distilled to make "lambanog."
"Lambanog" was made an export product in 2001 and has attracted foreign markets. It is now marketed and sold in different flavors like cherry, jack fruit, apple, orange, four seasons, strawberry, bubble gum, and mint.
Some homeowners in Vel Pal Estate, echoing the tradition from other "tuna"-producing towns, say "tuba" is made through a process of extracting the sap of an unopened coconut bud, which has a stinging sweet and bittersweet taste.
The tip of the bud is lopped and the pale juice allowed to trickle into bamboo containers. A sturdy tree yields about a gallon of liquid daily.
Some wine sources say from the coconut water comes a syrup concentrate for tuba, a sweet, fresh or mildly fermented sap taken from tapping the young expanded flowers of the coconut.
Other sources say that in some barangays of Malolos, Bulacan, tuberculosis patients are advised to drink or even bathe in tuba as a cure while nursing babies in Bantayan, Cebu are fed with this beverage.
There are wine connoisseurs who say wine drunk in moderation can help the drinker lose weight, reduce forgetfulness, boost his immunity and help prevent bone loss.
In the meantime, a familiar toast by "basi" drinkers in Pinili almost always echo during special occasions: "Paraiso koma ti pagtungpalan nagaramid basi a makaited rugso, Ngem impierno koma ti pakairusodan nagaramid bassit nga ungotko." (May paradise be his who made this basi great, But may hell be his destiny who made this coconut shell small.) (Honor Blanco Cabie/PNA/SCS/HBC)