Philippine Tourist Arrivals : Sustaining Growth in a Challenging Environment

Philippine tourist arrivals in the top 16 tourism destinations in the country rose 16.5 percent to close to four million.
The Department of Tourism's (DOT) efforts to maximize opportunities in international markets and encourage greater domestic travel movement provided the impetus to sustain tourism growth in the midst of challenges brought by the global financial crisis.
The 16 tourism destinations are Camarines Sur, Cebu, Boracay, Baguio, Davao, Puerto Galera, Bohol, Negros Occidental, Negros Oriental, Ilocos Norte, Masbate, Camarines Norte, Puerto Princesa, Legaspi, Catanduanes, and Sorsogon.
The feat is attributed to the substantial increase in domestic tourism by 20 percent, which enhanced the business and investment confidence in the sector in the first half of the year.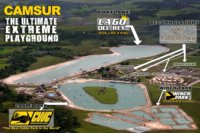 Camarines Sur Water Park
The changing lifestyle and travel pattern of more Filipinos and Philippine residents to spend their Holy Week, long weekends and summer/holiday vacation in the various tourist areas of the country also boosted tourist flow.
Foreign arrivals in key destinations also increased by six percent in the first half of the year despite a decrease of six percent in inbound visitors into East Asia and the Pacific.
Philippine Tourist Arrivals Volume
Camarines Sur posted a 52 percent and 260 percent hike in both foreign and domestic arrivals, ranking it as the most visited destination during the first semester with 902,202 tourists.
The investment of the provincial government of Camarines Sur in a wake-boarding tourism product stimulated visitor volume while continuing to bolster demand for more accommodation, tour services and transportation.
The influx of tourists in Camarines Sur also facilitated the expansion of infrastructure and development of tourism related products.
The success of Camarines Sur's initiative serves as a model for other local government units to harness their tourism potentials and optimize local resources to create more economic activity.
Cebu is the second most visited tourist destination with 830,599 visitors, claiming 23 percent share of total arrivals.
Cebu continues to be the top destination for foreign Philippine tourist arrivals with 321,116 in the first semester. The expansion in air access from major tourist markets, including the new charter flights from Incheon, Busan, Shanghai, Guangzhou, and Kaohsiung as well as increase in room supply, aggressive promotion, public and private sector partnership to diversify the tourism products greatly contributed to the hike in visitor volume to Cebu.
Visitor count in Puerto Princesa and Bohol went up by 63 percent and 16 percent, respectively, as diving, ecotourism, birdwatching, adventure and incentive tourism products were offered to all Philippine tourist arrivals by the DOT, LGUs and the private sector.
Increased demand also ushered in more community-based tourism products that increased the availability of product offering and livelihood for local residents.
Other most frequently visited destinations included Boracay (383,813); Davao City (330,247); Puerto Galera (215,755); and Ilocos Norte with 99,747 tourist arrivals.
Enhancing Tourist Products
The increased demand encouraged more entrepreneurs to create new products and experiences for visitors.
The Island Banca Cruises in Cebu has attracted Philippine tourist arrivals with its differently organized and packaged island hopping tour of the marine sanctuaries of Nalusuan and Gilutungan, the pristine white beach of Pandanon and dive sites of Moalboal.
Kultura Filipino in Intramuros gave tourists an opportunity to acquaint themselves with the Philippine cultural heritage through local dances, music and cuisine. This product also serves as the highlight of the new city tour program for Manila.
Similarly, the Pasig River Cruise had lured back Philippine tourist arrivals to visit and appreciate the many sights and attractions of Metro Manila. More than a river cruise, the product provides cultural interaction, culinary treat, historical tour and entertainment.
With increased popularity for adventure tourism, spelunking in the Sohoton Caves in Basey, Samar offered visitors with a quaint experience to commune with nature, explore the area's wonders and promote cultural exchanges.
Cruising along the Golden River of Basey also provided a glimpse of rural and community life amidst the scenery and images of clear waterways surrounded by green vegetation.
The sheer motivation of the municipal government of Danao in Bohol brought a new dimension to adventure tourism and created employment for local people.
The Ecological, Environmental and Educational Adventure Tour (EAT) in Danao, offers an extreme and exhilarating challenge with its 200-meter plunge, one-km slide, caving, river tubing, rappelling, kayaking and root climbing.
Likewise, the opening of a theme park called Fantasyland in Zamboanga del Norte had boosted Philippine tourist arrivals here. The entertainment facility includes interactive rides, shows and activities for foreign and domestic visitors. A 360-room hotel will also be built in the park.
Gauging from the interests of many foreign and domestic visitors to participate in environmental, heritage and livelihood projects, the Hands On Volunteer Vacation Tour Package was launched in Oriental Mindoro, Bohol, Boracay Island, Aklan, Laguna and Batangas.
Trekking, birdwatching, and eco-tourism products in Mt. Apo were enriched with new adventure, camping and cultural interaction activities which have drawn more tourists during the summer months.
The 3rd Philippine International Tourism Fair (PITF) in Cebu gave the LGUs and private entrepreneurs a venue to feature these innovative and new tourism products to foreign buyers and Philippine tourist arrivals from the Middle East, China, Hong Kong, Singapore, India, Japan, North America and Canada.
Europe's biggest long-haul travel group, the Meier's Weltreisen, had its Far East Live Seminar in Boracay and Manila, participated by 265 officers and member-agents who experienced these new and diverse tourism products, destinations and facilities.
Similarly, 110 top tour wholesalers from Switzerland visited Boracay, Banaue, Bohol, Cebu and El Nido to discover the different products in available for Philippine tourist arrivals.
These have intensified the awareness of available tourism products for the European market.
Pushing Dive Tourism
Based on the survey conducted by the TNS Philippines, the volume of dive tourists in Cebu, Bohol, Palawan, Mindoro Oriental and Batangas grew by 62.8 percent in the first semester this year.
German dive enthusiasts posted 131.9 percent increase while the Koreans dive tourists went up by 104 percent, American (37 percent), Japanese (34 percent), and Chinese (31 percent).
Overall gross receipts from dive tourism in said destinations posted an increase of 52.8 percent to P31 million vis-à-vis P20.2 million in the first half of 2008.
Substantial growth of 82 percent was recorded during the first quarter of 2009. Revenues generated by dive operators in Bohol surged by 195 percent while those in Cebu rose by 69 percent.
At the 17th Marine Diving Fair in Tokyo, the DOT Pavilion attracted more than 20,000 visitors and garnered awards for Best Diving Area, Most Desirable Destination, Best Dive Resort and Favorite Dive Operators for the country and participating dive operators.
The DOT also continued to draw dive tourists in its annual participation in the Golden Dolphin Fair in Moscow which attracted over 23,000 visitors from all the regions of Russia and overseas.