Malacanang Cites Impressive Tourist Arrivals for First Seven Months of 2013 

Philippine tourism posted an impressive 11.05 percent growth in tourist arrivals for the first seven months of 2013, a Palace official said on Thursday.
During a press briefing in Malacanang, Presidential Spokesperson Edwin Lacierda said Tourism Secretary Ramon Jimenez reported tourist arrivals from January to July this year aggregated to 2,798,881 arrivals or an increase of 11.05 percent from the same period in 2012, maintaining the growth momentum recorded in the first half of the year.
"The first seven months corresponded to 50.9 percent of the 5.5 million target arrivals for 2013. Arrivals in July reached 418,288, the second highest record during the year, and the first for the said month over the past years," Lacierda said.
He said South Korea remains the largest source market with 706,998 visitors or a total of 25.26 percent of the total inbound traffic, recording a double-digit growth rate of 22.30 percent.
"Following at second place is the United States of America with 417,904 arrivals; while China rose to third place, overtaking Japan, and posting the strongest growth among the top markets with 48.58 percent," Lacierda said.
"Other important source markets with double-digit gains include Russian Federation, which is 34.36 percent; Indonesia, 26.70 percent; Saudi Arabia, 23.24 percent; France, 19.95 percent; Thailand, 18.07 percent; and India, 17.07 percent," he said.
In a bid to improve the country's tourism sector, the Department of Tourism, Department of Public Works and Highways, and Department of Transportation and Communications have collaborated for the improvement of connectivity infrastructure (roads, airports, and ports) leading to priority tourist destinations throughout the country.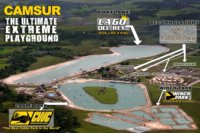 Camarines Sur Water Park
The DOT estimates that it would require approximately P63.13 billion to implement a sustainable tourism destination infrastructure program by 2016.
The government is also strengthening the aviation industry cognizant of its vital role in facilitating not only tourism, but also trade and industry.
The President signed RA 10378 in March 2013, which rationalizes the taxes imposed on foreign carriers (air and shipping). The law aims to address the clamor of the airline industry for equal tax treatments between local and foreign air carriers and encourage the re-entry of aviation players that have left the country in the past due to unequal tax treatment (e.g., Air France-KLM), among others.
Further, the government, through the Civil Aviation Authority of the Philippines (CAAP) and DOTC, instituted reforms to align Philippine air safety standards and practices with those of international organizations such as the International Civil Aviation Organization (ICAO). These reforms resulted in the lifting by ICAO of the Significant Safety Concerns (SSC) on Philippine civil aviation in March 2013 and the lifting of the EU ban on Philippine Airlines (PAL) on July 10. 2013. (PCOO)