Philippine Resorts and CHI, The Spa at Shangri-La, using Himalayan Tsangpo Ritual
Famous among Philippine resorts and spas, CHI, The Spa at Shangri-La, uses the Himalayan Tsangpo Ritual -- a signature bathing and cleansing ritual using ingredients based on the Sowa Rigpa, the 1500-year- old healing tradition of the Himalayas. The ritual joins a range of CHI therapies developed in collaboration with recognized experts in traditional Chinese medicine and Himalayan healing philosophies.
The ritual, which takes place in a room specially inspired by outdoor bathing, is featured in CHI, The Spa at Shangri-La Philippine resorts and Shangri-La resorts and hotels around Asia.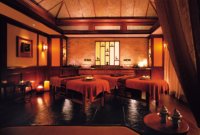 CHI, The Spa - Private Villas Shangri-La's Mactan Resort & Spa, Cebu
The ritual starts with a potently cleansing Himalayan salt scrub which takes place on a warmed stone plinth. The salts used are gathered by nomads from the ancient Tethys Sea, found at 15,000 feet high in Tibet, where they are believed to be 250 million years old. It is the purest salt of its kind available, infused with trace minerals and elements, and combined with aromatic herbs such as spikenard, a high-altitude Himalayan herb known to dispel stress and calm the senses. The salt has a detoxifying effect is said to reduce acidity in the body.
After a vigorous exfoliation, the body is treated to the application of Himalayan red mountain mud mixed with silagit, a rare mineral extract from the Himalayas and coveted by maharajas as a rejuvenator. The skin releases toxins while absorbing the minerals through osmosis. After simple, gentle cleansing with warm water, skin is left soft and supple, circulation is improved and vitality is restored.
This is followed by a soak in the Blue Moon Spring Bath -- a stone bath with subdued lapis blue light, the healing color of cleansing rivers of the Himalayan plateau. Bathing in the warm bath imparts a sense of serenity. On emerging from the bath, one can lean up against a cooling rock wall to heighten the senses with a rush of contrasting sensation.
The experience is completed with a soothing Himalayan Head and Shoulder massage amidst the primal sound of singing bowls, known to put one in touch with soothing vibrational energy and for cleansing the mind. The 90-minute ritual is an ideal precursor to a full body massage or facial.
About the Ingredients:
The ingredients used are sourced directly from the Himalayan region, a vast storehouse of medicinal and aromatic plants, used since ancient times by indigenous people for healing and ritualistic purposes. The trade supports the local rural economy and women's economic development.
Tethys Sea Salts
The Tethys Sea was once the largest high altitude inland sea on the planet. All that is left of its greatness is its sparkling crystals of salt found in the Changtang deserts of the Tibetan plateau. Hauled in yak caravans by nomads, this salt is beloved by the Tibetans as an essential ingredient in salt butter tea. High Himalayan dwellers traditionally heat the salt, wrap it in muslin and place it on the stomach to alleviate digestive disorders. For Tibetans, salt is often likened to a crystal, the symbol of a clear mind, which can illuminate with dazzling flashes of rainbow light the most refined essence of our being. In body treatments, sea salt is traditionally used to exfoliate and invigorate. As a powerfully detoxifying agent, it draws toxins out of the body.
Red Mountain Mud
Tibetans have been smearing mud on their faces for a long time though not always as beauty treatments. In ancient times, Tibet was sometimes referred to as a nation of "red-faced demons," so called because warriors would paint their faces with red ochre before going into battle. In Nepal, where red earth is common, women traditionally smear wet red mud on the floors at dawn as a religious act of purification for the house. Mud and minerals have always been used in Himalayan pharmacopia. Mud is considered excellent for problems relating to chu-ser, or sluggish lymphatic systems. It is often used in combination with herbs for making plasters for sore knees, rheumatism, arthritis or broken bones. Muds from sacred pilgrimage sites such as Tirthapuri near Kailas are considered to have their own unique healing properties.
Visit CHI, The Spa at Shangri-La's Mactan Resort & Spa Cebu or any Shangri-La Philippine resorts and experience the rejuvenation!

<!- BEGIN RSS Buttons -->
[
?
] Subscribe To This Site
<!- END RSS Buttons -->
Return from Philippine Resorts to Home