Philippine Golf Courses Toured by PGA Pros

Philippine golf courses and the Department of Tourism (DOT), in cooperation with Rajah Tours and US-based Activentures, recently hosted members of the world's largest and most respected working sports association, the Professional Golf Association (PGA) of America.
The golfers toured key cities and played at prime golf destinations like Manila, Cavite, Batangas and Cebu during their week-long Philippine Golf Familiarization tour.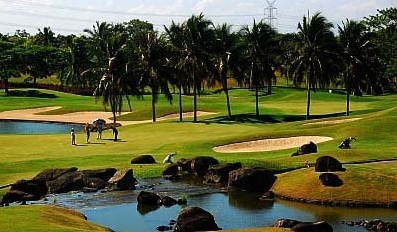 Golf Course in the Philippines
They also played in some of the country's world-class and PGA masters-designed golf courses such as:
• Orchard Golf and Country Club, Cavite
• Riviera Golf Club, Cavite
• Manila Southwoods Golf & Country Club
• Eagle Ridge Golf and Country Club, Cavite
• Alta Vista Golf Club, Cebu

The tour participants also conducted a two-day golf clinic, free of charge, for the members of the Alta Vista Club in Cebu.
The Philippine Tourism Secretary said the familiarization or "fam" tour is in line with the efforts of the Tourism department to position the Philippines as a premier golf holiday destination for North Americans.
"Together with diving, adventure, health and wellness, and medical tourism, golf is one of the niche activities that we have identified as having great potential with various tourist groups including Fil-Ams," said Durano.
"After all, we have world-class Philippine golf courses here that are comparable, if not better, than those in most expensive destinations. And on top of golf, there is much more to see and appreciate as we have fantastic nature and tourism facilities to complete the package," the Secretary added.
PGA member and Professional Golf Manager of Coyote Country Club in Los Angeles Kenneth Yuson, who joined the familiarization tour, could not agree more: "Priced well, golfing in the Philippines will be a great success!"
A golf tour operator and wholesaler, Yuson is pursuing to package with ActiVentures an all-inclusive golf tour to the Philippines. He is also aiming to have a Filipino-American golfer to become a member of the PGA.
Indeed, aside from getting challenged by the Philippine golf courses, the familiarization tour participants experienced the best of Filipino hospitality as they went on city tours, spa treatments, site inspections of five-star and deluxe hotels to feast on sumptuous Filipino dishes.
Australian Open player and First Assistant Golf Professional of Castlewood Country Club in Pleasanton, California, John "JJ" West summed up his Philippine experience by saying "From unique golf courses, to the excellent service, to the wonderful people, a golf trip to the Philippines is not to be missed. It is a once in a lifetime opportunity."
Tourism Undersecretary Eduardo Jarque, Jr. said, "Golfing in the Philippines indeed spells total recreation for any tourist. Our luxurious, world-class golf courses can be found both in the cities, as well as in nature-rich provinces like Boracay where you have many more awesome tourist destinations to enjoy."
Florida-based Diedric Holmes, senior director of a non-profit, PGA-accredited educational program for the youth through golf scholarships called "The First Tee World Golf Village" was impressed enough with what he saw during the fam tour to want to set up the very first "The First Tee" program (www.thefirsttee.org) in the Philippines someday.
"Everything you can want from scuba diving to the Philippine golf courses to the people – it is a perfect destination.
"Wonderful experience, you will see things in the Philippines that you will not see anywhere else!" said Michael Robason who is a professional golf instructor representing Metropolitan Golf Club.
During the fam tour leisure break, Robason went to Anilao for his first Intro Dive and loved it. His experience in Anilao proved to him that the Philippines is indeed a multi-activity tourist destination.
The Ultimate Golf Philippines PAL Interclub Tournament Lures 151 Teams From Six Countries
The Philippine Airlines Interclub Golf Tournament, which for the last two decades has distinguished itself as the country's national team golf championship...
Philippines Golf in Subic Attracts Groups of Tourists
Philippines golf is a big hit as South Korea's Jeju Airlines made its first chartered flight from its base in Seoul to this free port.