Philippine Festivals; 25th Panaad sa Negros Festival
The Silver edition of the award-winning Panaad sa Negros Festival will bring "more surprises and big events" this coming April 14 to 22.
Provincial Planning and Development Officer Ma. Lina Sanogal, festival executive director, hinted this on Saturday as preparations for Negros Occidental's "Festival of all Festivals" are in full swing with barely a month before the festivity opens.
This year's theme is "Panaad @ 25: The Promise Fulfilled".
The nine-day festival will once again be brought to life at the Panaad Park and Stadium in Barangay Mansilingan in this city.
The annual celebration is participated by all 19 towns and 13 cities of Negros Occidental, including its capital Bacolod City.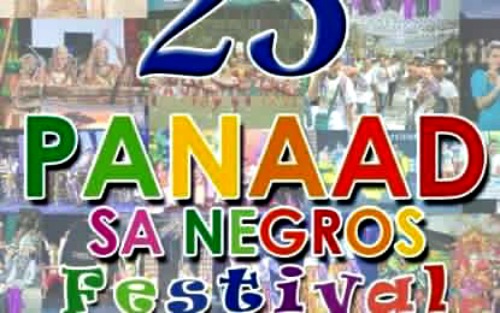 Panaad sa Negros Festival, which was elevated to the Pearl Awards Hall of Fame last October after topping the Best Tourism Event – Provincial Festival category for three straight years, showcases the distinctive Negrense skills, talents and creativity in every unique theme pavilions of the participating local government units.
Negros Occidental was first awarded by the Association of Tourism Officers of the Philippines and the Department of Tourism in 2008, and again in 2014, 2015, and 2016.
"This award is significant as we are celebrating the 25th year of the festival. We are already a top destination for domestic tourists, but this latest recognition will further bring in more tourists to Negros, especially to our festivals," Sanogal said after receiving the award last year.
One of the most anticipated events this year is the musical play "Panaad: The Promise Fulfilled," featuring artists with Negrense roots led by Kuh Ledesma, Joel Torre, Ronnie Lazaro and Audie Gemora.
Sanogal said the musical play essays the province's colorful story, struggles and triumphs, and resilience in the face of adversities.
Other annual activities include the Lin-ay sang Negros Pageant, Festival Dances Competition, Latin Dancesport Competition, Drum and Lyre Competition, Binalaybay and Rondalla Competition, and Folk Dance Competition. (Nanette Guadalquiver/PNA)