A Philippine Dish - Satisfy Your Appetite With Laguna Delicacies
A Philippine dish and Philippine cuisine in Laguna
Aside from its amazing tourist's destinations, Laguna is also known for its delicacies and appetizing food products. Almost every town has its own particular product with its distinct taste that is mainly raised in the town. Foods that will surely capture everyone's flavor and savor.
Here is a list of the delicacies to look for when you happen to pass by or visit Laguna.
Buko pie is a famous delicacy of Los Baños town in Laguna province. Buko pie is a pastry filled with young coconuts and pudding, much similar to a coconut cream pie, but has no whipped cream topping.
Bibingka. There are are many versions of bibingka in the Philippines but when you are in Laguna, the bibingka of Pagsanjan is the must-try delicacy.
Mer-Nel's chocolate cake is the favorite cake in Los Baños, Laguna. The cake is moist and light, while the icing is sweet chocolate with a hint of milk.
Bibingka de Macapuno is the same as the regular bibingka, but what makes it different is that it has macapuno as its filling.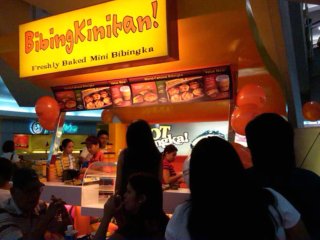 Kesong puti or white cheese is widely produced in Santa Cruz, Laguna, and the town of its origin. "Kesong puti is fresh, non-aged, white, soft cheese made from the milk of carabaos or water buffalos."
Monay is slightly sweet and thick bread that has a hard outer shell. Monay is widely available in local bakeries but the monay in Bay, Laguna is deliciously different.
Espasol (rice pudding) is a native Filipino sweet treat made from rice flour and coconut strips cooked in coconut milk. The cooked pudding is shaped into cylinders and then rolled into toasted rice flour. It is believed that espasol originated from Laguna, Philippines.
Uraro or arrowroot cookies are popular in Laguna province. These cookies are delicate and powdery, and feel dry on the mouth like puto seko (although puto seko is much drier). Usually, uraro is shaped into flowers and wrapped in a thin paper called "papel de hapon."
So what are you waiting for? There is a Philippine dish waiting for you. Visit Laguna and try these delicious and mouth-watering foods that you'll surely love. (Dyan Kristine Real/Alan C. Ortillano, PIA-Laguna)



<!- BEGIN RSS Buttons -->




[

?

] Subscribe To This Site

<!- END RSS Buttons -->



Return from Philippine Dish to Home