Closer Ties Between Philippine, China Dive Groups
With the flourishing Philippines-China relations, Philippine Ambassador to China Jose Santiago Sta. Romana has called for closer partnerships between the two countries' dive groups and enthusiasts.
"I look forward to closer partnerships between our dive resorts and dive centers as they meet and network with Chinese dive operators and clubs during our event today," Sta. Romana said in his remarks during Thursday night's Dive Philippines 2017 Presentation and Networking Event, held at the Post Mountain Bamboo Space, Dongcheng, Beijing.
The event was organized by the Philippine Department of Tourism and the Tourism Promotions Board to maximize private sector participation in the Diving Resort Travel (DRT) Expo 2017 at the China International Convention Center.
Sta. Romana said the Philippines, an archipelago of more than 7,000 islands, offers not only endless possibilities for swimming and surfing but for other water sports as well, such as snorkeling and scuba diving.
"Our country is at the apex of the Coral Triangle where 75 percent of all known coral reefs and 40 percent of reef fish species thrive," the soft-spoken envoy said.
He cited as an example the Verde Island Passage near Puerto Galera in Oriental Mindoro that scientists have described as "the Center of the Center of the World's Marine Biodiversity".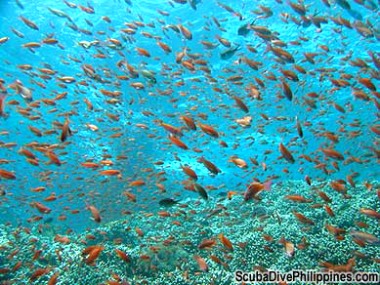 Puerto Galera via scubadivephilippines.com
"Beyond our colorful corals, divers and underwater photographers will also find seashores, turtles, various types of fish and other marine life in a number of our dive sports, including Puerto Galera, which has been designated by UNESCO as a Man and Biosphere Reserve," Sta. Romana said.
He said dive enthusiasts will find that diving in the Philippines is possible all year round as water temperatures stay warm at about 27-31 degrees Celsius.
Genesis Raenani Renos, tourism officer of the Philippine DOT in Beijing, said this year's DRT Expo 2017 is expected to boost the target to hit the one-million mark of Chinese tourist arrivals in the country this year.
"Every year, we are doing this kind of promotion but this year, we are excited because the Philippines and China relations is strong and healthy. We want to attract more dive enthusiasts to visit our country," Renos said in an interview with the Philippine News Agency (PNA).
For her part, Negros Oriental first district Rep. Jocelyn Sy Limkaichong is hoping that the DRT Expo 2017 would awaken the interest of the Chinese dive enthusiasts to visit the Philippines' best diving destinations.
"We have world-class diving destinations and I hope it will awaken the interests of young dive enthusiasts not only here in China but in Asia and in the world," Limkaichong said.
During the Dive Philippines 2017 Presentation and Networking Event, the Chinese dive enthusiasts got a glimpse of the Philippines' best diving destinations through videos and photos, including those presented by well-known Taiwanese underwater photographer, Yorko Summer.
According to media reports, the DRT Show named the Philippines as "The Most Popular Diving Destination" for the year 2016. The DOT said dive enthusiasts make up about 5 percent of total foreign tourists visiting the Philippines every year.
Aside from Puerto Galera, also considered as the country's best diving spots are those found in Anilao, Batangas; Blue Hole in Romblon Island, Romblon; Cabilao Island and Balicasag Island in Bohol; Apo Island in Negros Oriental; Malapascua Island in Cebu; Tubbataha Reef National Park, WWII Wrecks in Coron Bay, Honda Bay in Puerto Princesa, and Barracuda Lake in Coron Island, all in Palawan; and Mactan Island in Cebu. (PNA/ Jelly F. Musico)