Palaui Island is Among top 3 Philippine Beaches According to CNN

Officials of Sta. Ana, Cagayan Province are now strengthening security measures of Palaui Island after being declared in the top 3 among Best Beaches and Islands in the Philippines by CNN Go travel website of the Cable News Network (CNN) International.
In an interview with media, Mayor Darwin Tobias stated that ensuring peace and security in the area will bring in more tourists and will help preserve the natural beauty of the island.
In addition to Palaui Island, here is the complete top 10 list of Philippine beaches:
• El Nido, Palawan
• Boracay Island
• Palaui Island, Cagayan Province
• Panglao, Bohol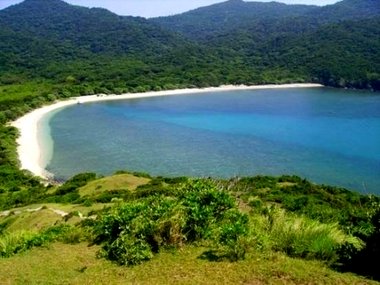 Palaui Island, Cagayan Province
• Bantayan Island, Cebu
• Caramoan, Camarines Sur
• Samal, Davao
• Siargao, Surigao del Norte
• Great Sta Cruz Island, Zamboanga
• Pagudpud Bangui, Ilocos Norte.
On CNNGo's website, Palaui Island was described as an "isolated island which is a natural secret -- only the brave and persevering bother to visit. Glorious white sands surrounded by volcanic rocks on one side kiss blue-green waters on the other. Snorkeling and diving brings you face to face with coral gardens and a rich marine reserve."
"Palaui is all about raw beauty. But it takes some work to get there. Treks should be blessed with clear blue skies, patient companions and trusted local guides. Getting to the island's most prized stretch of beach requires battling thorny grass, muddy ground and a mangrove forest," Candice Lopez-Quimpo cited in her article. (TCB/Oliver T. Baccay-PIA 2)