Philippine Airline Zest Air Praised by Korean Travel Magazine

Philippine Airline Zest Air was recently cited by "Tour Media" one of South Korea's respected travel publications as one of the "Travel Agent's Choice for Best Airline."
Placing a very respectable 11th place out of 53 other airlines, Zest Air bested other competing Philippine carriers based on a ranking criteria that included customer preference, aircraft passenger comfort, on-time performance, passenger relations, high service quality for marketing and reservations, travel agency relations, competitively priced fares, saleability and safety.
According to its Vice President for Marketing Leveric Ng, Zest Air flies its highly popular 168-seat Airbus A320 jets four times weekly (Monday, Thursday, Friday & Sunday) from Kalibo to Incheon, South Korea with available connecting flights to Manila.
Zest Air's Kalibo – Korea route is highly popular especially among Korean tourists, as it offers direct and convenient access to the world-renowned white powdery beaches of Boracay.
Currently Zest Air flies to 19 other destinations in the country that include: Bacolod, Boracay via Kalibo, Busuanga, Bohol (Tagbilaran), Calbayog, Catarman, Cebu, Clark, Davao, Iloilo, Legazpi, Manila, Marinduque, Masbate, Mindoro (San Jose), Puerto Princesa, Tablas, Tacloban and Virac.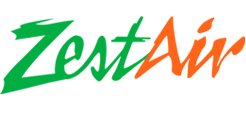 Philippine Airline Zest Air
As a special treat during the summer holiday season Zest Air's timely offerings come by way of the highly popular and affordable Zestful Getaway Tour Packages.
For frequent flyers, Zest Air treats air passengers to the Voyager Pass, a special booklet that offers eleven one-way coupons ideal for the individual frequent traveler, for groups of friends or for family travel.
It's not only a great bargain as you get a fantastic deal (10 coupons plus One (1) FREE), it also affords you convenience and practicality whenever you feel the urge to travel.
Simply call Zest Air's Reservation Hotline, identify yourself as a Voyager Pass holder, book a flight, present your coupon at the air terminal and you're good to go!
Philippine airline Zest Air is sure to fill you with many surprises in the coming months as it switches into high gear in offering its valued clientele greater convenience, wonderful extras and of course above all, quality service befitting Asia's most refreshing airline, Leveric Ng added.
For more information contact Zest Air Reservation Hotline at 855-3333 or visit their website at www.zestair.com.ph