Fancier, DOT-Accredited Pedicabs Will Soon Ply Intramuros Streets

Fancier pedicabs may soon ply the streets of Intramuros, a tourism official said Friday.
Intramuros Administrator lawyer Guiller Asido said that this comes after the agency recently completed skills training for around 50 pedicab drivers in efforts to build a more competitive tourism workforce.
The pedicab drivers were taught Intramuros history, tour-guiding and even gender sensitivity.
Asido revealed that the agency also plans to have the pedicab drivers accredited by the Department of Tourism (DOT) and eventually they will receive a fancier pedicab, uniform, and ID.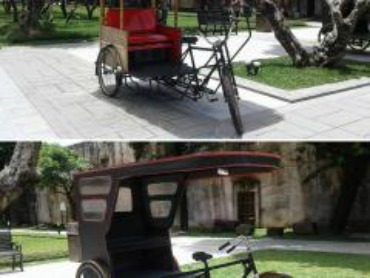 Intramuros Pedicabs
"They will be properly adapted in terms of uniform and there will be tags already. We're improving pedicabs and they will be accredited by the DOT," Asido said.
He said that these pedicab drivers were endorsed by different barangays.
"Right now, we just completed trainings for the pedicab drivers, we're improving the traffic and mobility plan as well," he added.
He said that the goal was to accredit all pedicab drivers in Intramuros.
"What we intend to do is accredit and regulate all of them. This is only the first batch," he further said.
Aside from accreditation, the Intramuros Administrator also plans to regulate the pedicab fees which are currently priced at PHP200 to PHP300 per hour.
Asido said that the Mapua University has donated two prototype pedicabs -- a nipa hut-inspired pedicab and a carriage inspired pedicab -- which are currently being tested out.
"…We're choosing which of the two models we will use," the administrator said. (Azer N. Parrocha/PNA)