Paoay Lake, a Growing Rowing Destination in the Philippines

For the first time, the tranquil Paoay Lake in Paoay, Ilocos Norte, will make noise as it becomes home to amateur rowers from around the globe competing in the week-long 71st International Regatta from January 13 to 20.
The Amateur Rowing Association of the East-Far East Amateur Rowing Association (ARA-FEARA) chose Paoay Lake as its venue for the water sports.
The Manila Boat Club, the event's organizer, found Paoay Lake suitable for rowing because of its calm surrounds.
Amateur rowers from India, Hong Kong, Dubai, Pakistan, Singapore, Malaysia, Sri Lanka, United Kingdom, New Zealand and host Philippines will take part in the water sports and, in the process, launch Paoay lake as an international rowing center.
Members of Team Ilocos Norte have began training at the lake days before the event's official launch.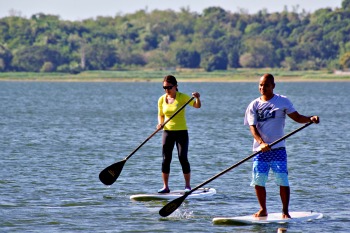 Paoay Lake Paddle Boarding via www.ilocosnews.com
The provincial government commissioned Philippine Olympic trainors to supervise the province's rowers and make sure that they will be at par with other amateur rowers from abroad.
The lake has been largely unused for other purposes except as a breeding ground for various fish species. The provincial government started promoting the lake in 2010 as a site for various activities from stand-up paddle boarding to boat rides but they have yet to take off as a regular income earner for locals.
The site is a favorite spot for picnics and birdwatching during the cold spell when migratory birds from Asian countries flock to the lake to seek temporary shelter.
The local government has started sprucing up the lake surrounds for the international event since September last year. Local businesses from hotels, restaurants, travel agencies and establishments selling souvenirs are expected to benefit from the international sporting event. (ANL/Ma. Cristina C. Arzadon-PIA 1 Ilocos Norte)