Panagbenga 2012 All Set For Opening in Baguio

It's all systems go for Panagbenga 2012, thus assured officials of the Baguio Flower Festival Foundation Inc. (BFFFI) in a kapihan media forum.
On February 1, Panagbenga 2012 will formally take-off with a grand opening program at 7:00 a.m.at the Panagbenga Park along Military Cut-off Loop, to be followed by the Drum and Lyre parade and competition.
Baguio Cultural Society President Bing Bangaoet, whose group was tapped by the BFFFI to handle and bring in something new to all the parades of Baguio's Flower Festival, disclosed that there will be 16 contingents from various elementary schools in the city in the drum and lyre competition on the opening day.Each team will showcase different presentation concept, costumes and props.
Other highlights of Panagbenga 2012 are: the Market Encounter along Burnham Park which will run from Feb. 1 to March 4; Let a Thousand Flowers Bloom at Melvin Jones on Feb. 11; Handog ng Panagbenga sa Baguio and Fluvial Parade at Burnham Park on Feb. 12; Grand Street Dancing Parade on Feb. 25; Grand Float Parade on Feb. 26; Pony Boys Day on March 2 to 3; and the Session Road in Bloom which will run from Feb. 27 to March 4.
More community- led activities are embedded in the five-week celebration.The culminating program and fireworks display are slated on March 4.
Started in 1995, the Panagbenga or Baguio Flower Festival reflects the history, traditions and values of Baguio and the Cordilleras. It has since steadily grown to become one of famous festivals in the country.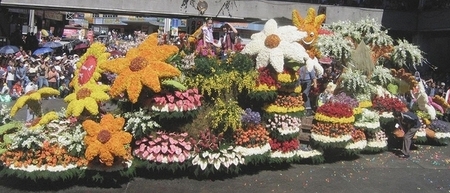 Panagbenga is a Kankana-ey (local dialect among people from the Mountain Province and Northern part Benguet) term meaning "a season for blossoming."
Mayor Mauricio Domogan, who chairs the BFFFI Executive Committee, has issued an administrative order declaring February 1 as a holiday or no classes on all school levels in Baguio.
In the said kapihan, Domogan also affirmed that the city government has allocated P2 million budget for the Baguio Flower Festival, in addition to the P2 million that was also allocated by Congressman Bernardo Vergara for the said festival.
Meantime, BFFFI co-chairperson Freddie Alquiros, in the same Kapihan forum, disclosed that the foundation is targetting a P7 Million fund from sponsorships for this year's staging of Panagbenga.
In line with Panagbenga 2012's theme, 'Community Convergence for a Sustainable Tourism Growth', Alquiros called on the citizenry especially to all business owners in the city to support the successful staging of the festival. Afterall, this is our own festival which in one way or another will benefit all of us, he said.
BFFFI co-chair Anthony De Leon, general manager of the Baguio Country Club and also the Vice President of the Tourism Congress, called on the public to support in welcoming all visitors and in ensuring their convenience and comfort. He said organizers are expecting about a million visitors to visit the City for the five weeks celebration of Panagbenga 2012. (JDP/Lito Dar-PIA CAR)