Panaad sa Camiguin

Known to many for its spectacular wonders, be it in its array of the finest foods, fruits, waters and people, Camiguin is but a tourist perfect destination.
Local and foreign tourists flock to the island all year round and the Lenten season is among its peak period of the year, every March or April.
After more than 30 years, "Panaad in Camiguin" still continues to draw huge numbers of pilgrims and tourist alike.
It is a religious activity that was started by a handful of islanders in the 80's and has found its place on the region's annual calendar of top tourist come-ons.
"Panaad" is a Cebuano term which means a religious vow of sacrifice to take the 64-kilometer walk around the island-province, highlighted with an uphill walk in Mt. Vulcan where the fourteen (14) Stations of the Cross are located.
The penitent walk normally commences immediately after visitors set foot on Benoni Port in the town of Mahinog.
The crowd then goes towards Mambajao, and then to Catarman town where the Mt. Vulcan climb awaits each devotee, a never-miss part of the Panaad, then sets off again until they reach the place where they started.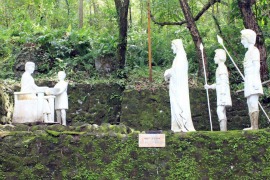 The religious walk is completed with a "Visita Iglesia", in every chapel and old church they pass.
The local government has already put in place steering and working committees to oversee the needs and safety of the visitors.
All key areas such as ports, town centers, and sacred places where devotees often congregate will hold information counters to be manned by the local disaster risk reduction management council, barangay council and tourism office.
Pilgrims are encouraged to register and secure the Panaad 2012 identification cards which can be accessed upon arrival at the Benoni Port Tourist Assistance Booth.
Medical teams are likewise readied to respond to health emergencies as devotees in some instances experience difficulties because of too much heat and exhaustion as they walk their way around the island. (Jorie C. Valcorza-PIA 10)