Olango Island Seen as New 'Tourism Frontier' By Lapu-Lapu City Mayor
Lapu-Lapu City Mayor Paz Radaza has announced the city's plan to develop Olango Island as the city's new "tourism frontier."

Radaza, in her recent State of the City Address, said developing Olango Island as an ecotourism destination will help the city "stay ahead of this highly competitive tourism market."

She said the city will develop the island based on the principles of community-based tourism. "I want to create a low-intensity, high-value tourism attraction devoid of large infrastructures on Olango Island," she said.
"I foresee guests in the islands kayaking in the waters of Barangay San Vicente and Pangan-an island on a full moon, going bird-watching at the Olango Bird Sanctuary and snorkeling in the Talima Marine Sanctuary."
The Olango Island Group is composed of Olango Island and six satellite islets, namely, Sulpa, Gilutongan, Nalusuan, Caohagan, Pangan-an, and Camungi.
Olango Island and its neighboring islets have a total land area of approximately 10.3 square kilometres.
Olango Island, situated off Mactan Island in Cebu, is one of the seven best-known flyways in the world for migrating birds.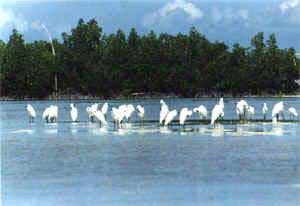 Olango Island, Cebu, Philippines
Its main attraction is its 920-hectare Olango Island Wildlife Sanctuary, a haven for migratory birds from Siberia, Northern China, and Japan.
These birds flock to the island seeking refuge from the winter climate of other countries. The sanctuary supports the largest concentration of migratory birds found so far in the Philippines.
There are 97 species of birds in Olango, 48 of which are migratory species, while the rest are resident birds of the island.
The birds use Olango as a major refueling station as well as a wintering ground. The birds stop by the island on their southward journey to Australia and New Zealand and on their journey back to their nesting grounds.
Among the frequent guests are Chinese egrets, Asiatic dowitchers, Eastern curlews, plovers, sandpipers, Black-tailed Godwit and Red Knot.
It is best to visit Olango around the months of July to November just in time for winter in the Northern Hemisphere. The 1,020 hectares tidal flats in Olango are a national protected area and it was included in the Ramsar List of Wetlands of International Importance on July 1, 1994.
It is the Philippines' first wetland of international importance for waterfowl.
Mayor Radaza said the city will develop ecotourism as a tool for sustainable development in Olango and Mactan islands. (PNA) (LAP/EB/bh)