Nueva Vizcaya Eyes 2013 Mountaineering Summit
Hundreds of mountaineering enthusiasts and environmentalists from all over the country are expected to stay in this province by the end of this month for the four-day mountaineering event at Camp AGBAPER in barangay Masoc, Nueva Vizcaya.
The conducting of the 8th Mountaineering Federation of the Philippines, Inc.(MFPI) Summit from May 30 to June 2 will showcase the eco-tourism adventure potentials of Nueva Vizcaya, said Raymond Zamora, president of the Nueva Vizcaya Mountaineering Society, Inc.(NVMSI).
Hosted by this province, the event dubbed "Ummungan Dagiti Umuuli" (Gathering of mountaineers) will attract and unite MFPI members and non-members to explore the ecotourism attractions and adventure trails such as the world-renowned Capissaan Cave System in Kasibu town and the Mt. Palali mountain range which straddles along the portions of the towns of Bayombong, Solano, Quezon and Kasibu.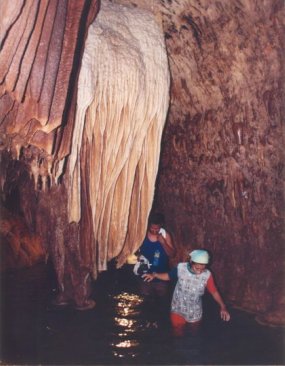 Capissaan Caves of Nueva Vizcaya
"This is one of the post-Ammungan Festival events which was organized to promote the ecotourism potentials of our province among local and foreign tourists," Zamorra added.
He said that the province will also celebrate its 5th Ammungan Festival, a trade and cultural event from May 19 to 24 to showcase the ecotourism potential, gains on local governance and diverse cultural identity of Novo Vizcayanos.
During the MFPI Summit, Zamorra said exposures on basic mountaineering skills, wilderness rescue, environmental awareness, 25 kilometer summer run/bike, concert from environmental bands, games, raffle draws, local tours and cultural presentations, among others will be conducted.
The MFPI Summit is supported by the provincial government, local government units of Quezon and Kasibu and the Department of Tourism(DOT) in Cagayan Valley. (Benjamin Moses M. Ebreo/PIA 2-Nueva Vizcaya)