AccorHotels seals partnership for Novotel Calatagan Beach Resort in Philippines
​Landco Pacific Corporation recently sealed a partnership with the AccorHotels Group under the Novotel brand to operate a 9-storey hotel with 342 guest rooms, Novotel Calatagan Beach Resort.
The 4-star Novotel Calatagan Beach Resort is the first venture of AccorHotels in South of Manila and will be the third Novotel brand to open in the country.
The nautical-inspired cruise ship architectural concept was designed by Pomeroy Studio, a Singapore-based firm and will be scheduled for ground breaking on the first quarter of 2017. Landco's drive to push luxury leisure living will be seen by the completion of the 4-star resort by 2018.
A limited number of units of Novotel Calatagan will be sold under the condominium-hotel product concept. Out of the four structures of Landco's project in the pipeline only one structure will be operated by AccorHotels.
AccorHotels introduces JO&JOE brand for millennials
The current plan is to expand the Jo&Joe brand rapidly with 50 properties by 2020, especially in destinations that are popular for the Millennials such as Paris, Bordeaux, Warsaw, Budapest, Rio de Janeiro and Sao Paulo.
The venues will be located in the cities centers, close to public transportation and less than 15 minutes away from major points of interest.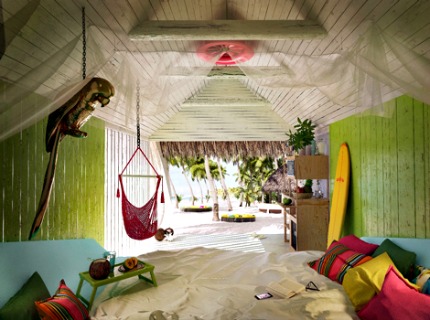 AccorHotels JO&JOE Brand
"Break with tradition, forget old habits, be surprising, authentic, unexpected, bring a breath of fresh air to AccorHotels." explained Sébastian Bazin, Chairman and CEO of AccorHotels, the idea behind the new brand.
The brand plans to offer a perfect environment for all kind of travelers: singles, couples, groups and families with its "Happy Floors".
Guests can stay at small "Happy House" apartments and enjoy a maximum of privacy or use the 'Together' modular sleeping area with shared bathrooms and recreation areas.
"Yours" are rooms and apartments for up to five people with a private bathrooms and some rooms also with an own kitchen area.
The "OOO!" (Out Of the Ordinary) offers unexpected accommodations for people traveling alone or in groups such as yurts, hammocks and caravans.
A key feature of the new venues will be their food and beverage offering with each having a local bar and affordable restaurant concepts, as well as a collaborative kitchen for use by the guests.
The launch of its new brand is just one step of AccorHotels to expand its presence worldwide. Just recently the French groups acquired FRHI Hotels & Resorts with its three brands Raffles, Fairmont and Swissôtel.