Northern Mindanao Has a New Tourism Bi-way ; Maramag

Famous for its cool crystal-blue spring waters that flow copiously, Maramag town in the province of Bukidnon is the new tourism highway in Northern Mindanao. Here, the legendary Musuan Peak backdrops the famed state-owned Central Mindanao University.

This landlocked town of 116,600 people from 20 barangays prides itself in being Mindanao's top source of fresh carabao (water buffalo) milk and other end products such as chocolate milk, pastillas de leche (milk candies) and cookies, all of which are available in the display center along the national highway inside the Philippine Carabao Center.
Maramag serves as the nodal point of the major national roads of the province to the different places in Mindanao. When traveling by land Maramag is three hours from Cagayan de Oro City (north reference), eight hours from Davao City (south-east), two hours from Wao, Lanao del Sur (west), and five hours from General Santos City.
The town's rich soil produces high grade sugar cane, flowers, fruits, vegetables, rice, corn, and other major crops, which are regularly shipped to major markets in the country.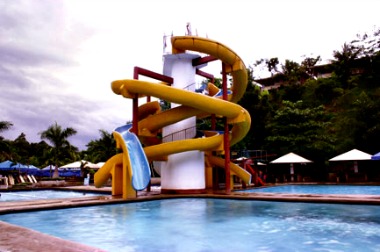 Waig Spring Resort, Maramag, Northern Mindanao
With sugar cane ranked as the number one crop, Maramag boasts its agricultural importance to the development of Mindanao. It has the Crystal Sugar Corporation, which mills sugar cane and produces an average of 10,000 metric tons of sugar per day.
Lately, mulberry plantations were established. Mulberries contribute to the country's silk fiber supply for export.
Dole's sweet bananas are also grown here. Its fresh fruits are exported to Japan, Korea, China, Hong Kong, New Zealand, and the Middle East.
Nature trekkers and mountain climbers will find a panoramic view at the top of Musuan Peak's 100-hectare Centennial Park. Mountaineers will see a vista of Maramag's grandeur and acres upon acres of sugar cane, rice, and corn fields.
Not only is Maramag endowed with natural attractions. The town's terrain is characterized by slopes, steep hills, and mountains with thick forests protecting the place from floods and storms. Not too hot, but not too cold, the place has the ideal climate that offers soothing memorable holidays.(Ruby Leonora R. Balistoy-PIA 10, Bukidnon)