15 Nations Expected to Join North Face 100 Ultra Trail Marathon 2013 in Benguet

1,300 runners, 15 nations expected to join North Face 100 Ultra trail marathon 2013
For the third consecutive year, the North Face 100 or TNF 100, the first Ultra trail running marathon series in the Asia-Pacific region will be held at the Baguio-Benguet area this April 20 to 21.
To launch the event, the Department of Tourism (DOT-Cordillera) headed by Pura Molintas hosted a kapihan media forum here Monday with City Administrator Atty. Carlos Canilao, Baguio Correspondents and Broadcasters Club (BCBC) president Roderick Osis and North Face Philippines officials headed by Division Manager Jundel Llagas.
Llagas, in a statement, disclosed that all preparations are set for the event which will start and finish at the Camp John Hay camping grounds. He reported that around 1,300 runners are set to join the marathon including representatives from 15 countries.
He explained that they are pushing for the institutionalization of the event here as a globally accepted sports event because of the altitude, the quality of trails and the cool weather condition.He also stressed the good synergy between the organizers and the private partners as well as the concerned local government units.
TNF 100, which was launched in the Philippines in 2008, tests the limits of human endurance and promotes the passion for the outdoors, as the trail running that it introduces is done in the most challenging, unspoiled and breathtaking landscapes.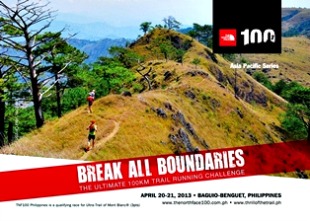 Aside from the Philippines, TNF 100 also sprawls through Australia, Singapore, China, Japan, Taiwan and Thailand.
For the the TNF 100 this year, Llagas said there will be four categories open for solo, male and female in the 11K (kilometer) 22K, 50K and the penultimate 100K run.
For the featured 100K category which gun starts at 3am of April 20, from the starting point in Camp John Hay, the marathon will pass through the Embassy Gate of Loakan Airfield, mountain trails along Itogon Benguet, Philex Mining Corp, Kennon Road, Mt. Sto. Tomas and Mt. Cabuyao in Tuba, Benguet, and back. It will be an uphill and downhill run with the lowest elevation set at 247 meters above sea level and the highest peak at 2,203 meters above sea level.
For the Cordillera, this is another opportunity for the region to further its potential as the next extreme sports adventure destination in Luzon.
For other information on TNF100, interested individuals can also log on to their website at www.thenorthface100.com.ph or www.thrillofthetrail.ph. (Carlito C. Dar/ Joel Rigonan/PIA)