Visayas Moves to Jointly Protect Only Barrier Reef in Philippines

In order to protect, preserve and manage the Danajon Double Barrier Reef, the only documented barrier reef in the Philippines and in the whole of Southeast Asia, four Visayas Governors signed a memorandum of agreement in Tagbilaran City, Bohol.
Leyte Governor Carlos Jericho Petilla said that the 272-square meter Danajon Bank which is located off northern Bohol and surrounded by the provinces of Cebu, Leyte and Southern Leyte, is teeming with rich and diverse marine flora and fauna, having Southeast Asia's largest man-made mangrove forest located at the Banacon Island off the coast of Getafe town in Bohol.
Danajon Bank cuts across 16 municipalities and two cities in the four provinces in the Visayas which is within the bastions of the so-called "Millionaire's Club," in terms of population, eight in Bohol, two in Cebu, 4 in Leyte and one in Southern Leyte.
These municipalities are Tubigon, Clarin, Inabanga, Buenavista, Getafe, Bien Unido, Trinidad, Ubay, Pres. Carlos P. Garcia and Talibon in Bohol; Lapulapu City and Cordova in Cebu; Matalom, Bato, Hilongos and Hindang in Leyte; and Maasin in Southern Leyte.
Danajon Bank is a very rare geological formation because it comprises two sets of large coral reefs that formed offshore on a submarine ridge due to a combination of favorable tidal currents and coral growth in the area. It is believed that the reefs were formed over the last 6000 years.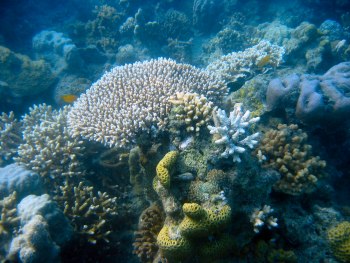 Danajon's double barrier reef is a larger and better-defined structure than other known double barrier reefs in the world. The outer reef lies 11 km offshore, and is composed of several units up to 23 km long each. The inner barrier is 2 km wide and separated from the littoral by an inshore channel 26 m deep at most.
Over the years, the Governors of the four provinces observed, that the condition of Danajon Bank has been in an alarming state due to the extremely high fishing pressure, rapid population growth in the coastal towns surrounding it, and the inefficient and inefficient coastal resource management programs and policies.
Thus, during the CeLeBoSoLe Growth Quadrangle Convention on Poverty, Population and Environment held in Tagbilaran City, Governors Gwendolyn Garcia of Cebu, Carlos Jericho Petilla of Leyte, Erico Aumentado of Bohol and Damian Mercado of Southern Leyte signed a Memorandum of Agreement which automatically created the CeLeBoSoLe Council and Technical Working Group, which are inter-regional, multi-province, and multi-agency body.
The MOA aims to address the issues and concerns affecting food security, poverty reduction over population, maintenance of the biodiversity at the Danajon Bank Barrier Reef, and the enforcement of fishery laws though a participatory convergence approach of the various stakeholders of said rare natural bounty.
The joint and borderless Danaon Bank Double Barrier Reef undertaking is an unprecedented move that is expected to contribute tremendously to the achievement of the Millennium Development Goals specifically ensuring sustainability of environmental and natural resources.