International Artists in Bohol for National Arts Month's 'Likha Asya' 
National Arts Month in Bohol
International artists from at least four countries in Asia will be in Bohol on February 26-30, to take part in the Likha Asya, a highlight of the National Arts Month (NAM) 2013.
National Commission for Culture and the Arts (NCCA) Chair of the Drama Committee and Bohol Festival chairman Lutgardo Labad said that Bohol would host at least four major national and international events in line with the NAM in February.
Labad, during the first coordination meeting for the event, said artist performers, resource persons and craftsmen from Indonesia, Cambodia, Thailand and Japan and Filipino counterparts will be in Bohol to share regional experiences, best practices and innovations in a bid to strengthen consciousness during the Likha Asya.
According to the NCCA, Likha Asya is the First Asian Festival and Conference on Community Theater, Creative Industries and Community-Based Tourism for Sustainable Livelihoods.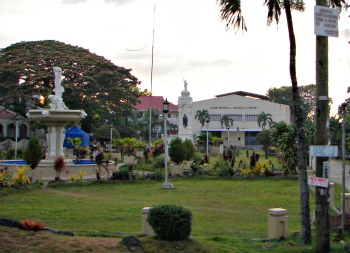 Bohol Cultural Center
Likha Asya will take off in Bohol on Feb. 26 to 28, where majority of the activities are set at the Bohol Cultural Center and the Abatan Ecological Theater in Cortes, said Labad.
Labad said that aside from sharing sessions, Likha Asya also brings in regional arts performances, arts flea markets, fora and conventions.
It is envisioned to be a venue for a cross-cultural exchange of practice and imagination in the artistic industries and in informative tourism, Labad said.
Sharing for the Philippines is a network of theater workers in the Visayas composed of thespians from communities and school-anchored theater organizations doing a collaborative effort for theater as a tool for empowering communities through cultural education in a movement called Lihok Bisaya, he explained.
Lihok Bisaya is an informative organization of seven community-based informative groups in the Visayas region that will interact with identical groups in Asia, where each group details an essay of how each have made livelihood in their respective regions using the creative arts.
Labad also explained that Likha Asya convenes most of its activities at the Bohol Cultural Center but moves to some locations for performances including the Abatan Ecological Theater in Cortes, Punta Cruz Watch Tower and possibly Dauis Church Complex.
During the coordination meeting attended by local artists and cultural workers including tourism workers, Bohol Center for Culture and Arts Development Head Enriquita Butalid said Capitol is also joining the flurry of activities for the Arts Month with their Art Icons exhibit as well as its Arts Bazaar. (FCR/Rey Anthony H. Chiu/PIA Bohol)