Bakun, Benguet Launches Nagasa Cave

Home to the famous Kabunian caves, Bakun will launch its rediscovered Nagasa cave in Poblacion on October 15 for adventurists and nature lovers alike.
Designated Municipal Tourism Action Officer Arthur Tolito said Nagasa cave was rediscovered sometime in 1980s by a person who went hunting. It is believed to have been used as refuge of soldiers during World War II.
The underground cave which has stalactite and stalagmite formations still intact is used as haven for bats and swallows especially during the rainy season.
The local government unit installed protection railings at the cave entrance while tourist guides through their initiative installed a hatch to avoid vandalism inside the cave, according to Tolito.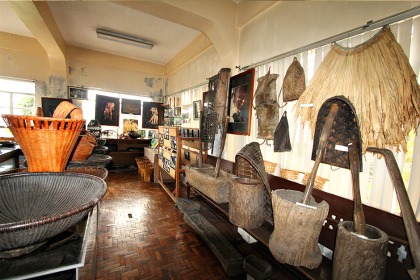 Benguet Museum - La Trinidad, Cordillera Administrative Region
The launching will involve an indigenous ritual to be followed by cave exploration. The provincial government and the Department of Tourism are extending assistance for the event.
According to Tolito, the Department of Environment and Natural Resources recommended approval for use of Nagasa cave and the LGU has trained around 200 tourist guides for the caving venture.
There are two trekking options en route to the cave. The first option is a shorter distance requiring only one to one and a half hour trek passing thru barangay Dada all the way to Mount Lubo going down to where the cave is nestled.
The second route takes a longer time about three hours passing thru Poblacion Proper to Nagasa cave.
Apart from caving, the peak of Mount Lubo, the last mossy forest frontier endowed with rich biodiversity which the LGU wants to protect, offers a panoramic view of Poblacion, Bakun, Buguias, Mankayan, Mt. Province and Tagudin in Ilocos Sur, according to Tolito.
One attraction that the LGU also wants to showcase in the trek is the century- old Arabica coffee plantation privately owned by Complecio Calawa.
To ensure the protection of the environment, Bakun Councilor Marshal Tamid-ay who chairs the committee on environment, said spelunkers and trekkers will be properly briefed to ensure that littering will be prevented, deliberate destruction of formations will be avoided and the swallows' nests will be protected.
'We want to ensure that environmental protection and conservation will not be compromised during any eco-tourism venture', Tamid-ay stressed. (JDP/Susan C. Aro - PIA CAR,Benguet)