Naga City Braces for Summer Tourists; Inspects Tourist Facilities, Trains Lifeguards

As the summer peak season is just around the corner, the Arts, Culture and Tourism Office (ACTO) of this city has started the inspection of tourist facilities and training of facility employees in preparation for the influx of tourists from April to May.
Alec Francis Santos, chief of the Naga City ACTO, said this month, they have started inspecting all establishments catering to city visitors, from small pension houses to big hotels, especially those with facilities for swimming and other recreational amenities requiring a big amount of water.
Santos said ACTO does inspection regularly or every three months with help from several other agencies and city hall departments that include the Bureau of Fire Protection, City Engineer's Office, City Health Office, the Philippine National Police.
"We go around every quarter, especially prior to the peak season (which is summer), as we want to ensure the establishments are compliant in terms of facilities and personnel," he said.
Santos said they have found out that most of the establishments in Naga City, which provide accommodations for tourists, have been compliant with pertinent local and national regulations.
Santos said if there were non-compliance with the rules, these were "minor."
He cited that these include the non-posting of their permits or "when it comes to sanitation, some employees do not use the yellow or health cards, especially those handling food."
Santos said establishment personnel who handle food are required by law to wear their yellow or health cards at all times.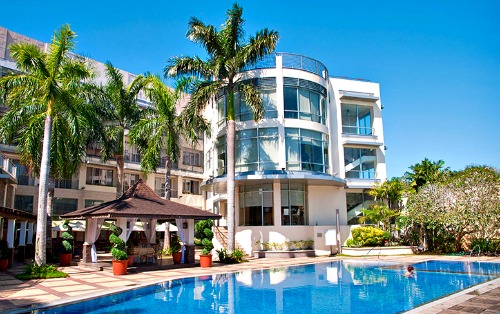 Avenue Plaza Hotel, Naga City, Philippines
He added that the health cards are proof that the establishment personnel had undergone the required health examination and found to be free from communicable diseases.
Santos said ACTO also conducts trainings on first aid, water safety and rescue operations for employees manning the swimming pool and other similar facilities.
"In Naga City, all resorts with swimming pools are required to have qualified lifeguards who will be on duty during operating hours," Santos said.
He said the one-week training for lifeguards that covers water safety and rescue procedures is in partnership with the Philippine National Red Cross.
"We do this training twice a year to ensure the safety and security of guests coming to Naga City," Santos said.
He said the training instructors emphasize how drowning incidents could be avoided and how to properly resuscitate a drowning victim.
Santos said the handling of "mass casualty incidents" are also tackled during the training for lifeguards.
He said the number of tourists visiting Naga City has been on a "continuous upward trend for the past four years from 2013 to 2016."
ACTO data show that from 859,743 tourists in 2013 the number has grown to 1,209,202 tourists in 2016.
"In 2014, the number of tourists who visited the city reached 947,808 and in 2015, the number had breached the one-million mark at 1,057,172 tourists," said Santos.
The months of May, September and December are the peak months where the most number of tourist visiting Naga City is recorded, according to ACTO data. (PNA)JEJR/EDS