DOT sees Boost in Muslim Tourists After Launch of Halal-Certified Establishments
With the launch of new halal-certified establishments of Thursday, the Department of Tourism (DOT) said that it expects a 10 percent increase in travelers coming from the Muslim market.
DOT Assistant Secretary Arturo Boncato Jr. told reporters that the Philippines acquired around 600,000 visitors from countries that are predominantly Muslim in 2015.
"We hope we get more than (600,000 visitors) or about a 10 to 13 percent increase for this year from those markets," Boncato said noting that this was also backed by additional air connections via Turkish Airlines, Qatar Airways and Emirates.
"With efforts of activation in those markets, a double-digit increase is really our target," the DOT official said.
As for receipts, DOT Secretary Ramon Jimenez Jr. said that the goal is to acquire at least 10 percent of the total tourism generated income from Muslim travelers from Southeast Asia, which constitutes to roughly 20 to 25 percent of the global halal market.
"It is reckoned that Southeast Asia is good for at least 20 to 25 percent of the global halal market, that's roughly USD50 billion a year that we can be a part of. If I get only 10 percent of that, that is twice the income we have now," Jimenez told reporters.
"Even if we are a Christian country, we are one of the preferred places to go because we are surrounded by Muslim countries so the experience of eating is not exactly new if you're Malaysian or Indonesian. That is why our tourism numbers will show," he added.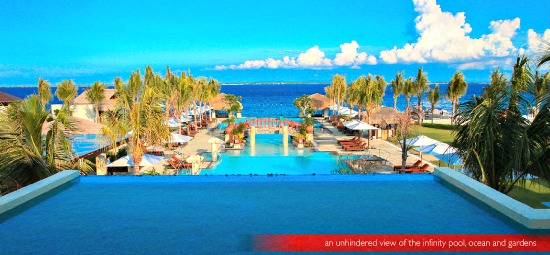 Crimson Resort and Spa Mactan Cebu - Halal Certified
Fazal Bahardeen, CEO of the globally recognized independent rating and accreditation standard for Muslim-friendly travel services, Crescent Rating said that by 2020, there will be 168 million Muslim travelers which will be spending some USD200 billion.
"We estimated last year, there were 117-million international Muslim visitors and by 2020 we predict 168-million international Muslim visitors—that's almost 10 to 20 percent of the global traveler Industry," Bahardeen said.
"By 2020, we believe Muslim visitors will spend USD 200 billion," he added. "That is why you see many destinations that are aggressively targeting this market."
He meanwhile described the Philippines' efforts to reach out to the Muslim market as a welcoming development that will definitely reflect in the country's arrivals.
Halal as a game changer
National Commission on Muslim Filipinos (NCMF) Secretary Yasmin Busran-Lao, for her part, noted the importance of the launch of halal-certified establishments which breaks cultural and religious barriers.
"Halal will lead the way in making the Filipino Muslims feel that they are a part of this country. This will be a game changer in terms of the economic development in the area," Lao said.
"This is matter of people having a livelihood because they are going to be a contributor to a bigger goal of mainstreaming the halal industry," she added.
While 16 establishments have so far received their halal-certification from the DOT and NCMF, Boncato said that there are 43 establishments in total that applied for certification and are currently completing requirements.
Initially, establishments from Manila, Cebu, Davao and Boracay have expressed their interest to apply for halal-certification but other cities namely Bohol, Caraga, Soccskargen and Zamboanga have opted in.
Boncato meanwhile expressed hope that these halal-certified restaurants will also receive global certification from Crescent Rating in two weeks.
Aside from being a globally recognized independent rating and accreditation standard for Muslim-friendly travel services, Crescent Rating also publishes the annual Global Muslim Travel Index (GMTI) that ranks over 100 destinations according to Muslim-friendliness of people, facilities, and services. (PNA)BNB/Azer N. Parrocha