Moalboal Backpacker Lodge

Welcome to Moalboal Backpacker Lodge. The only real low budget accommodation right here in the lively heart of Panagsama Beach in Moalboal, on the south west coast of Cebu island.
Their philosophy is to provide cozy accommodation for an affordable price for all budget travelers. It is the perfect place for all people who love traveling!
In the Backpacker Lodge you'll find a single room w/fan and a family room both with shared bathroom.
A mix dormitory for 16 person w/fan and shared bathroom. A woman's dormitory with fan and shared bathroom is in the planning stage and will open soon.
The rooms or dormitory have single and double deck beds with hygiene washable mattress and fresh bed linen.
Moalboal Backpacker Lodge is a family friendly place and that's why kids below age of 12 accompanied by their parents stay for free.
It's a hostel for budget travelers that are looking for a simple, friendly and clean guesthouse. Our facility is a mix dormitory, 1 single room and 1 family room all with fan and shared bathroom.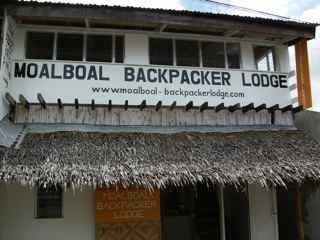 The price list starts at 199 Philippine Pesos for the budget rate for 1 person in the mixed dorm.
The lodge is a communal facility including 2 shower, 2 toilet, 2 washbasin, washing machine, kitchen with gas stove, kitchen tools and refrigerator. A BBQ station with a long table is in front of the lodge. So get a fresh fish from the market and have a fun BBQ with your friends.
In the cozy lobby is with reception desk and a small coffee shop. There are have enough large lockers to keep your luggage safe as well.
Moalboal is located around 90 kilometers south of Cebu City on the west coast of Cebu Island, about a 3 hour journey from metro Cebu.
Tourists wanting to travel to Moalboal (Panagsama Beach) can easily take a taxi from Cebu International Airport. If you travel by bus just catch a Ceres Liner (via Barili) bus at the South Bus Terminal in Cebu City.
At the Moalboal market take a tricycle to Panagsama Beach.
If you are traveling by car, leave Cebu City following the south highway, take a right in Carcar to Barili then continue south to Moalboal. Once in Moalboal take a right turn at Julies Bakeshop to Panagsama (3.5 km straight ahead).
Since the 1970s, Moalboal has been a developed tourism spot based on dive shops, beach resorts, bars and restaurants. Scuba diving is the main activity, and it compares favorably with any spot in the Philippines. The home reefs are fine and Pescador Island is one of the best dive spots in the Philippines. It ranges from a fantastic drop off to a colorful reef top. The structure of the whole reef is ideal for snorkeling, scuba diving and free-diving.
Website: www.moalboal-backpackerlodge.com
Phone: +63 32 474-3053
Email: info@moalboal-backpackerlodge.com