Kalinga Lass is new Miss Tourism International Philippines

A Kalinga lass was crowned Miss Tourism International in the Mutya ng Pilipinas Grand Coronation Night held recently.
Glennifer Duggay Perido representing the Cordillera Administrative Region in the prestigious pageant, will be the official Philippine representative to the 2014 Miss Tourism International pageant to be held in Malyasia this coming December.
Perido is a 24 year old registered nurse who is among the 30 lovely candidates of the 46th edition of the Mutya ng Pilipinas. She won several minor and major awards during the pre-pageants of the Mutya ng Pilipinas – as Miss Ivana Fragrance by Tupperware Brands Philippines, Mutya ng Zen Institute and Best in Long Gown.
As a true Cordilleran and Kalinga native, Perido has been wearing Cordillera and Kalinga inspired and designed gowns and accessories showing off the rich culture of the place.
Born in Laguna, Perido was raised in the mountains of Kalinga particularly in the municipality of Pinukpuk and studied at the Pinukpuk Elementary School and Saint Theresita's Pinukpuk until third year high school.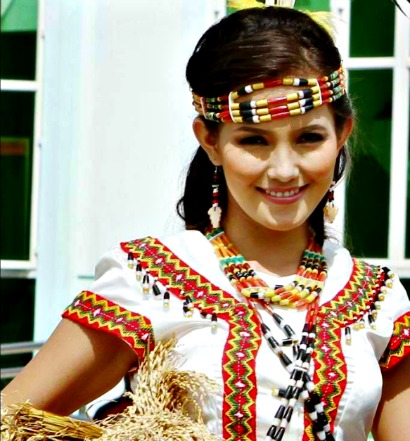 Miss Tourism International Philippines via events2images.wordpress.com
She went to San Pablo, Laguna to finish high school then took up nursing and became a registered nurse in 2010. She then returned to Tabuk City where she now resides
A daughter of an Overseas Filipino Worker, her ambition is to be able to help people without monetary exchange which is why she's not considering working abroad to earn money.
Growing up in the province made her more appreciative of the beauty and bounty of nature that God has bestowed on Kalinga, that is why she fully advocates the utilization of renewable energy or green energy of the future.
"It is cost efficient and environmentally friendly. It doesn't contribute much to greenhouse gas emissions, which is the main cause of climate change.
Perido has been joining and winning beauty pageants. In 2011, she won as the first runner up in the Miss Casino Filipino 2011. She was also the representative of the Philippines in the Miss Tourism Queen of the Year International 2011 in China. She also grabbed the title of Miss Air Philippines in the prestigious Miss Earth Philippines 2012.
Other winners in the Mutya ng Pilipinas were Mutya ng Cebu Eva Psychee Patalinjug as Miss Asia Pacific International, Mutya ng Milan Patrizia Bosco as Mutya ng Pilipinas Overseas Communities and Mutya ng Olongapo Cristine Racel as 1st runner and Mutya ng Australia Kim Fyfe as 2nd runner up.(JDP/ Redjie Melvic Cawis- PIA CAR)