Masbate's Rodeo Festival and Tourism Campaign Takes Off in April

Exciting competition on horse riding which has turned into a highly successful Rodeo Festival in the rugged terrains and wide ranches in Masbate takes off in April.
With pleasant weather, Masbate has also earned the title of "Cattle Capital of the Philippines." What's more, its robust livestock industry plays a huge role in the province's economy.
As a sport, rodeo naturally develops where there are ranches and cowboys. Masbate's very own rodeo developed the same way. Thus, in 1993, a group of ranchers collectively known as Rodeo Masbateño Inc. (RMI) institutionalized the Rodeo Festival (then called Rodeo Masbateño).
Twenty-one years later, the Rodeo Festival has grown and progressed as an event not just by ranchers and cowboys but by the entire people of Masbate.
Judge Manuel Sese, RMI president, could not hide his excitement for this year's Rodeo Festival to be held next month. From a record breaking edition of the Festival in 2013, Judge Sese looks forward to more community participation this year.
"Masbateños love rodeo and this is magnified during the Rodeo Festival. After witnessing and participating in a very successful Festival last year, I hope that more people will get involved this year.
"The Rodeo Festival plays a significant role in the province's tourism and economic sectors. The success of the Rodeo Festival is the success of Masbateños," said Judge Sese.
In its bid to further improve the Festival, RMI decided that for this year, and in conjunction with the celebration of the Rodeo Festival, the livestock auction will be revived and held in Masbate.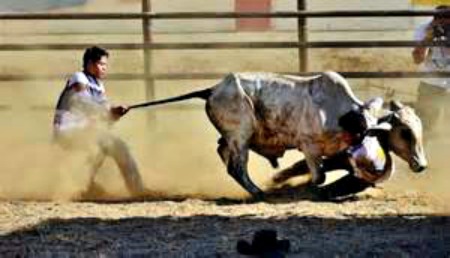 Masbate's Rodeo Festival via boyplakwatsa.com
In the livestock auction, farmers from Masbate display their quality breeds from fighting cocks to cattle. People from as far as Isabela, Batangas, and Pangasinan are expected to take part in the auction.
This way, more people will be able to visit the province, see the ranches where the livestock are grown, and witness the cowboys and cowgirls in action during the Rodeo National Finals.
Another form of upgrade for this year's festival is the bigger cash prize. From P400,000, the total cash prize is now half a million pesos. RMI hopes that this will attract more cowboys and cowgirls and result in more heart-stopping competitions.
According to Judge Sese, RMI will also continue the calesa ride which was a huge hit last year. The calesa ride goes around the town and passes though commercial areas, eateries and the Masbate Bay.
In addition, while in Masbate, one activity that tourists should not miss is horseback riding. The picturesque landscape of the province serves as a perfect backdrop for a relaxing and invigorating ride.
The Rodeo Festival 2014 will be held from March 30 to April 13. RMI expects around 45 teams to compete in nine events in the festival's core event dubbed the Rodeo National Finals, namely: bull whipping, load carrying relay, cattle wrestling on foot, castle wrestling from horseback, cattle lassoing from horseback, two-person carambola, four-person carambola, carambola and bull riding.
In addition to the much-anticipated Rodeo National Finals, there are several side activities that tourists will surely enjoy, namely: grand parade and opening of the rodeo games (April 8), cattle drive (April 9), cattle horse team penning competition (April 9), street barn dance (April 10), search for Mr. & Ms. Rodeo Festival 2014 (April 10), trade fair (April 8–13), agribusiness roadshow (April 8-13), rodeo salon (March 30–April 13), livestock show (April 8–13), carnival rides (March 15–April 13), calesa rides (April 7–13), and beef cooking contest (April 11). (PNA)(SCS/Lily O. Ramos)