Large Marine Protected Areas Established in Palawan to Rebuild Fish Stocks

A whopping 1,013,340 hectares covering both the coastal and offshore waters of Cagayancillo, plus 80,000 hectares of Aborlan in Palawan were recently declared as Marine Protected Areas (MPAs).
This is part of a two-country initiative by the World Wide Fund for Nature (WWF) and Fondation Segré to rebuild the fish stocks of the Coral Triangle by changing the way people view protected areas.
MPAs are portions of the sea which are protected by law. According to MPAtlas, the Philippines hosts 1557 – more than any in Southeast Asia.
Established largely through local government initiatives and administered by coastal communities, these undersea enclaves provide vital safe havens for marine life, while also attracting droves of tourists.
Sadly, many MPAs are plagued by lack of funding. Perhaps just over 100 MPAs are properly administered. Many are negatively viewed by coastal people as deterrents to their ability to fish in front of their homes.
This is because most MPAs have been designed to protect marine biodiversity rather than to replenish fish stocks and support local economies. "Fishermen were initially concerned that they would no longer be allowed to fish," recalls Aborlan Barangay Captain Zabalo. "But proper zoning allocated areas for fishing."
Over the past decade, WWF has been trying to put people's needs first by focusing on the value of MPAs to maximize fisheries production instead of merely protecting biodiversity. So effective has the move been that the people of Cagayancillo clamored to have their waters protected because they benefited from the bounty of the nearby Tubbataha Reefs plus their own marine conservation efforts in Cagayancillo.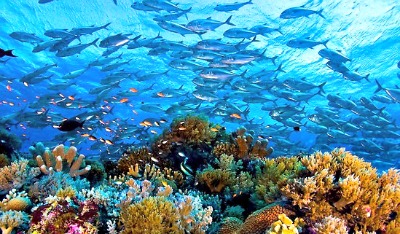 Cagayancillo Marine Reserve via palawanwonders.com
"Since WWF introduced marine conservation in early 2000, we have been vigilant. The reefs sustain our need for food and income. For years, we have had an abundant fish supply. I really believe some of them come from Tubbataha, especially the big ones," shares Cagayancillo-based conservationist Nison Abados.
Though composed of both offshore and coastal zones, Cagayancillo is now the largest MPA in the country – due mostly to an ordinance under Republic Act 7611.
Collaborative management is the key to effective and sustainably-funded MPAs. Roles, responsibilities and benefits are shared between national and local authorities, communities, the private sector and other resource users.
Realizing that sustainability means business viability, the initiative works with the local seafood and tourism sectors to finance and manage MPAs and sustainable fishing initiatives.
"The ease and speed by which Aborlan protected its waters was due to a three-year initiative by local provincial, municipal and village governments, the Environmental Legal Assistance Center, Western Philippines University and WWF," says WWF-Philippines President and CEO Joel Palma.
The move heavily involves local fishermen and communities in the management of marine resources by helping them gain exclusive rights to fisheries located in or near MPAs and by working with them to improve the health and productivity of their fisheries.
An example would be Seven Lines, a coral reef system in Aborlan. "Seven Lines supplies fish to smaller coral reefs in the region. This means fisherfolk don't need to travel far for fishing," says Aborlan Municipal Agriculture Officer Cacatian. This means that even if certain areas are off-limits to fishers, the spillover effects of protection will seed large areas with life.
The project aims to expand the network of critical marine areas that are protected, effectively-managed and sustainably financed in the Coral Triangle. "Through well-managed MPAs, coastal communities can realize that conservation is the surest way to secure tomorrow's fish," concludes Palma.
As of 2016, the projects of WWF and its allies are protecting 904,000 hectares of MPAs in the Philippines. (PNA) FPV/WWF-PR/EDS