Manila Five Star Hotels Just Got Better - Imperial Residence at Sofitel

Enjoy an opulent accommodation at the most luxurious collection of suites in Manila, The Imperial Residence at Sofitel.
The Imperial Residence at Sofitel Manila is the most prestigious and luxurious collection of suites in Manila. Its magnificent opulence makes for an ideal sanctuary within the city, fit for royalty, celebrity and heads of state. Hence, it is the most magnifique place for bonding with loved ones, regardless what the weather is. Enjoy the comfiest bed in the world with white goose down pillows, revel in unrivaled views of the Manila Bay while dining at the stylish outdoor living area, and enjoy watching movies or listening to your favorite music using the Imperial Suite's state-of-the-art entertainment systems.
This magnificent structure at Sofitel Manila is truly one of kind as guests may choose from any suite room from the collection, or book the entire residence; hence, guest may also convert any room to a gym, spa or office. Exclusive 24-hour butler service, a personal assistant or a personal shopper, and a private chef, are all available. The Imperial Residence also allows guests to enjoy stunning panoramic views of the majestic Manila Bay.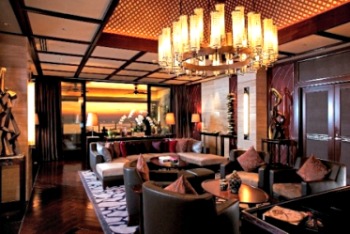 Private balconies wrap around the entire residence so that every room opens up to breathtaking vistas. The Manila Bay's famous sunsets are best viewed here. The Imperial Residence is perched on a precise point of the hotel's structure for the very purpose of providing optimum visibility of the bay and neighboring cityscapes. Indeed, nowhere in Manila can a view like this be found.
Finally, guests of The Imperial Residence may likewise enjoy the following privileges: VIP welcome at the airport and roundtrip limousine transfers with champagne, iPad and WiFi; VIP courtesies; express check-in and check-out in-suite; Hermès bath amenities; a private library of international magazines, books and periodicals; complimentary in-room non-alcoholic beverages and snacks; customizable rooms based on guest requirements; a fully equipped kitchen and private chef on request; state-of-the-art technology in lighting and entertainment, therapeutic bath and multi-shower system with color therapy; iPad with internet WiFi access; breathtaking 180-degree views of the city and the bay; top-end hotel security and privacy; dedicated 24-hour butler and Concierge services; personal shopper's services; Le Spa Signature Massage treatments for two, per day of stay; access to Club Millésime's executive lounge and privileges; and complimentary use of helipad with direct access to The Imperial Residence.
Experience the French luxury of fine living at the Imperial Residence at Sofitel Manila.
To book online, please go to http://www.sofitelmanila.com/en/imperial-residence.html.
To discover Sofitel Manila, please visit the official website at http://www.sofitelmanila.com.
Sofitel, World Class Hotels & French Elegance
Sofitel is the only French luxury hotel brand with a presence on five continents with 130 addresses, in more than 50 countries. Sofitel offers contemporary hotels and resorts adapted to today's more demanding and more versatile consumers who expect and appreciate beauty, quality and excellence. Whether situated in the heart of a major city like Paris, London, New York or Beijing, or nestled away in a country landscape in Morocco, Egypt, Fiji Islands or Thailand, each Sofitel property offers a genuine experience of the French "art de vivre."
Sofitel Philippine Plaza Manila
Sofitel Philippine Plaza Manila Hotel is a unique 5 star luxury hotel in Manila with a resort setting close to Mall of Asia, Manila Ocean Park, Intramuros, US Embassy, PICC, and major tourist spots in the Philippines. Sofitel 5-star accommodation includes 609 rooms and suites boasting of balconies and spectacular views of world famous Manila Bay sunsets.