Malunggay Leaves and Snacks Lower Blood Sugar Level and More

Moringa, or more commonly known among Filipinos as malunggay, is a plant acknowledged for its nutritional and medicinal value. Almost all parts of the moringa plant are edible, from the immature seed pods called drumsticks, to the leaves, mature seeds, and roots.
The leaves are said to be the most nutritious part of the plant. According to the Food Composition Tables (FCT) developed by the Food and Nutrition and Research Institute of the Department of Science and Technology (FNRI-DOST), malunggay leaves are significant sources of B vitamins, vitamin C, beta-carotene, zinc, potassium, and iron, among other significant nutrients.
Malunggay is a very common ingredient in Asian cuisines in countries such as Sri Lanka, India, Cambodia, Bangladesh, Thailand, and Pakistan.
In the Philippines, malunggay leaves are added to broth, like in the famous tinola, a traditional chicken soup dish with ginger and green papaya or chayote, to make a nutritious soup. The leaves are also processed with olive oil and salt to become pesto-like pasta sauce or crushed and mixed with lemons or citrus fruits to make juices or ice candies.
Among its many miraculous benefits, moringa can balance blood sugar levels. The FNRI-DOST conducted a study to determine the changes in glucose of people with moderately-raised glucose levels using malunggay leaves powder to verify this claim.
It was found out that food products such as buns, fish sausages, and veggie soups with added malunggay leave powder decreased fasting blood sugar, thus, possessing strong potential in fighting diabetes. However, the cholesterol-lowering effect of malunggay leaves is yet to be established in humans by way of a thorough correlation research study involving repeated observations over long periods of time.
Malunggay, touted as the miracle tree, is very abundant in the Philippines. It is therefore very practical and gainful to undertake studies on how to maximize its health benefits for every Filipino's well-being.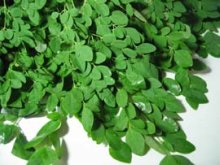 Malunggay
Malunggay, Veggie Snacks Production Rising in Marinduque
There are instant noodles with malunggay, pandesal with malunggay, malunggay capsules and tablets and malunggay tea.
Long before these products flooded the market, grandmothers and new mommies were cooking their tinolas and soups with malunggay leaves.
The market's love affair with malunggay was brought about by the belief that its leaves are rich in Vitamin A, Vitamin C, Calcium, Potassium and Protein, that prompted some lawmakers to push for a bill seeking to declare it as the country's national vegetable.
Similarly, the Department of Science and Technology- Mimaropa has developed a project that will produce malunggay-based snacks worthy of competing with common snacks, in support of the Department of Education's drive to remove junk foods in schools.
Last December, the Provincial Science and Technology - Marinduque and the Marinduque State College facilitated a snack making seminar for members of Batayang Pamayanang Kristiyano (BPK) in Mogpog town. The seminar dealt with the production of crackers and chips made from malunggay, cassava, and rice brans. Methods or techniques used in the training seemed to be applicable to vegetables other than Malunggay.
The Municipality of Mogpog identified this project for their 2014 funding and will allot funds for establishment of production centers for malunggay chips and other vegetable products.
The Department of Labor and Employment (DOLE)-MIMAROPA will soon be tapped to assist in the conduct of similar seminars and trainings.
For more information on food and nutrition, please contact: Dr. Mario V. Capanzana, Director, Food and Nutrition Research Institute, Department of Science and Technology, Bicutan, Taguig City; trunkline: 837 2071 local 2296 or 2287; telephone/fax no.: 837 3164, email: mvc@fnri.dost.gov.ph or mar_v_c@yahoo.com; website: http://www.fnri.dost.gov.ph. (Jund Rian A. Doringo, FNRI-DOST S&T Media Service/PIA-Caraga) (LBR/LP/BC/EM/Mayda Lagran/PIA-4B/MARINDUQUE)