Malalison Island: the Next Tourism Destination in Northern Antique
Take a plunge into one of Antique's most beautiful and promising dive sites – the island of Malalison in the town of Culasi.
Culasi is two hour bus ride from Antique's capital town, San Jose de Buenavista and is also accessible if one passes by the north way – which is Kalibo, Aklan. Malalison is a 55-hectare pristine island and is reachable by boat from the Culasibaywalk. It only takes ten to fifteen minutes especially if the weather is just fine.
Motorized bancas are available for hire at Php150.00/head. The same boat will take you to the island and back to Culasi mainland at your most convenient time.
A long stretch of white sand bar, a good view of the Mt. Madja-as especially if one is at the peak of the hill, a mysterious cave, corals and stones of all colors and shapes, the solitary "Nablag Islet", fine scuba sites, fresh catch and yes, hospitable folks.
These are just a few of Malalison's sites that entice tourists to visit the island.
As of April this year, its punong barangay, Allan Bernabe Macuja took pride in telling the world that about 900 tourists, particularly from the metropolitan Manila and those that get tired of the noise in Boracay, drop by Malalison every week.
In a span of three months since January this year, a total of 9,000 tourist arrivals were listed by the town's Tourism Center.
"We offer a simple life with limited luxuries," says village chief Macuja, " but we assure our visitors a safe stay and a secure night."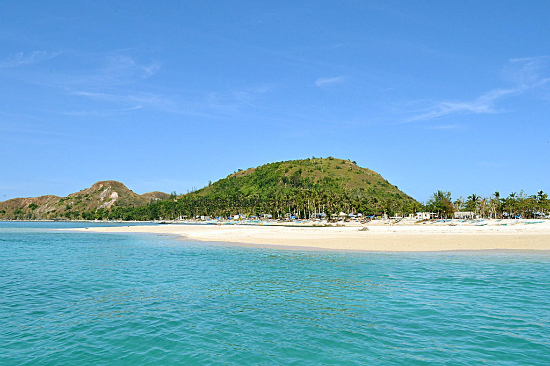 Malalison Island
Electricity is scarce on this island. The Barangay LGU utilizes a gasoline-fed generator that would provide electricity from ten o'clock in the morning until two o'clock in the afternoon, and from 6 o'clock in the afternoon until ten o'clock in the evening, from Monday to Friday.
On weekends, electricity starts at 6 o'clock in the evening until 5 o'clock in the morning.
There are no starred- hotels in the island. Only the local homes would offer the visitors a "homestay. For as low as Php 250 per person per night, visitors can enjoy a good and undisturbed night's sleep.
Breakfast, consisting of broiled fresh fish and vegetables salad, or anything that the visitors ask is oftentimes served early.
There are also bamboo cottages along the shores. With prices ranging from Php250 to Php300 to Php500, visitors can occupy these cozy bamboo cottages for the day.
A guided tour of the whole island is available upon request.
If you are an investor who wants to buy a piece of land in Malalison, forget about it.
There are no lots for sale because the natives want to preserve their island for their children. "It has been their playground for years, let it remain as such," Ona Delgado, one of the caretakers in a homestay said.
"We are proposing to build a portable pier made of fiber glass, wherein we can move it to the other side of the island to suit the wind's direction," added Punong Barangay Macuja.
The LGU-Culasi will be assisting us inasmuch as the island generates a big income since it was frequented by tourists, both local and foreign."
So if there are still trekkers, vacationers or just simply nature lovers who have not yet experienced stepping into paradise, the Island beckons you to come and have a taste of heaven only Malalison island offers simplicity and bliss beyond measure. (PNA) RMA/AJP/Leah Marie Lourdes P. Tambanillo/LPT/rsm