Lapu-Lapu City and Mactan Island

Lapu-Lapu City, formerly called Opon, on Mactan Island is named after the famous Chief Lapulapu, who is believed to have killed the Portuguese navigator Ferdinand Magellan when he arrived on the east coast of the island in 1521.
Augustinians then founded the town of Opon in 1730 and the town retained its name until 1961 when it was made into a city and renamed after Lapu-Lapu. In 1886 a monument to Magellan was erected at the site of the conflict, and a monument to Chief Lapulapu stands in the city's plaza.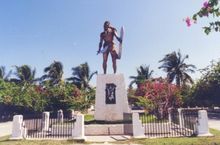 Lapu-Lapu City is a 1st class highly-urbanized city in the province of Cebu. The city limits include most of Mactan Island, just one kilometer southeast from the island of Cebu, and also covers the whole of Olango Island five kilometers further to the southeast plus a few other islets.
This city is linked to Mandaue City on mainland Cebu by two bridges: Mactan-Mandaue Bridge and Marcelo Fernan Bridge. From Mandaue, the provincial capital of Cebu City, is only five minutes away.
The Cebu International Airport is located in Lapu-Lapu City and is the country's second-busiest airport. It connects the city with more domestic destinations than the airport in Manila. It also has direct services to a number of foreign countries, including Japan, Hong Kong, Singapore and Malaysia.
Lapulapu Monument
(Punta Engaño, Lapulapu City ) Site where the battle between Mactan Island Chieftain Lapulapu and the foreign aggressor Ferdinand Magellan occured in April 27, 1521 . It depicts the hero holding a bolo (large sword) in one hand and a pestle in the other. These weapons were believed to have been used during his combat with Magellan. This monument stands as a reminder of Filipino bravery.
Guitar Factories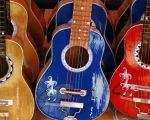 Lapu Lapu City is home to the majority of the guitar manufacturers in Cebu. Visiting one of the many factories will enable you to actually see how guitars are made. There are guitar factories like Alegre and a dozen or so others in the middle of the island. Take a tour of the Alegre factory, it is interesting.
Mactan Export Processing Zone
The Mactan Export Processing Zone, one of the most successful special economic zones in the Philippines, is located near the international airport. A key to the growth in region, production of products includes Timex watches, Pentax cameras, Maitland-Smith furniture and other goods. Manufacturing in the zone comprises about half the region's total exports.
Marcelo Fernan Bridge Park
The Marcelo Fernan Bridge was opened in August 1999 to decongest the traffic from the older Mandaue bridge. The bridge is one of the widest and longest bridge spans in the Philippines.
Philippines Beaches and Mactan Resorts
Plantation Bay Resort & Spa

Discover a resort in a class of its own. Set on 11.4 hectares of secluded grounds yet only 30 minutes from downtown Cebu City, Plantation Bay offers one of the largest privately-owned waterways in the world, with the clean elegance of colonial-plantation architecture. Decompress from life's pressures in the healing tranquility of an environment that truly feels "away from it all". If you have ever spent time at a tropical plantation, you know what we mean. Whether you're traveling for a family vacation or romantic getaway, for business or pleasure, this is far and away one of the best choices in the Philippines.
Maribago Blue Water Beach Resort Cebu


Maribago Bluewater Beach Resort: a perfect balance of natural beauty and manmade luxury on the white-sand shores of Mactan Island. Relax and soak in the sun, or charge up your day with fun-filled activities. There's no better place to delight in the island experience.
Enticing options for leisure and entertainment abound on the pristine white beaches or in the clear blue waters and lagoon-style pools. Dive trips take you to explore breathtaking depths. Aquasports and other leisure facilities, plus other diverse attractions promise a truly memorable experience in one of the most picturesque beach resorts.
Shangri-La's Mactan Island Resort and Spa


Shangri-La's Mactan Resort & Spa, Philippines' largest and most exclusive deluxe resort gives its guests the ultimate tropical paradise vacation experience. Located in Cebu, this idyllic resort with its beautiful private beach offers an exciting range of recreation activities and superb cuisine. Every guestroom blends tropical decor with modern amenities and private balconies provide panoramic views of the Visayan Sea and outlying islands, making it a perfect getaway for fun and relaxation.
Cebu Mövenpick Hotels & Resorts


Where else can you find a residence that offers the luxuries and comfort of a five-star hotel? The architects and designers of the Mövenpick Hotels & Resorts have meticulously created private enclaves for you to experience the opulence of hotel living. Each unit is plush with materials carefully chosen among the world's very best, conforming to International hotel Standards and further enhanced by state-of-the-art facilities.