One of the Top Luxury Resorts in Coron Palawan Celebrates the Yuletide Season
Have a rare yet exciting holiday celebration filled with wonderful Yuletide treats for the whole family at Club Paradise Palawan on Coron Island!
Celebrate an exciting holiday in the enchanting island of Coron, Palawan this year! Club Paradise Palawan, an exclusive resort in Coron, announces its line-up of delightful and fun-filled activities for the whole family this holiday season. Choose to stay in any of the cozy accommodations at Club Paradise and enjoy a Yuletide celebration unlike any other.
To bring the holiday cheer to guests, the Clubhouse at the beachfront will be transformed into a Santa's workshop as kids get to be Santa's Little Helpers with fun activities such as Christmas Cookie Baking, Christmas Balls Decorating, Puto (Filipino Rice Cake) Baking, Parol (Christmas lantern) Making, Christmas Card Making and a whole lot more slated daily for the entire holiday season. Mrs. Santa will likewise be available for kids and the kids-at-heart for "Photo Days" on 24, 25 and 31 December 2014.
Exploring the beautiful island of Palawan is likewise best during these dates as a special "Cruising with Mrs. Santa" is slated on 21 and 30 December 2014 for a breathtaking sunset cruise. A band of musicians shall accompany Mrs. Santa to entertain guests and spread the holiday cheer.
Fresh fruit shakes and canapés for adults while milkshakes and cookies for the little ones are on offer throughout the cruise. Rate is at P 300 nett per adult and P 150 nett per child. For guests looking for an all-day tour of the island, the "Ocean Breeze Cruises" is scheduled on 20 and 25 December. This tour allows guests to discover the beauty of Dimakya Island and the nearby Isla Walang Lang-Aw (island without trees) on a lovely paraw (double outrigger sail boat). Rate is at P 2,000 nett per person inclusive of light snacks. Minimum of two persons per trip. During night time, guests will enjoy the "Cinema Under the Stars" at the beachfront on 22 December 2014, 8PM onwards. On 24 December 2014, spend this special day with family and friends and join the fun bonding activity entitled Larong Pinoy at the Clubhouse (beachfront) from 10AM and 3PM.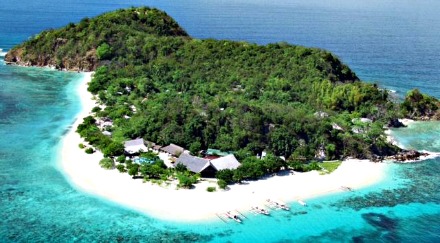 Club Paradise Palawan on Coron Island
The Yuletide season is likewise the time to indulge in sumptuous gastronomic adventures. Club Paradise Palawan has prepared a selection of holiday feasts for the whole family at the Clubhouse (beachfront). First on the feast selection is Barrio Fiesta Night, a delectable Filipino buffet with a mouthwatering carving station featuring the all-time Filipino favorite, lechon. Slated at 7PM on 23 December 2014, Barrio Fiesta Night is made more special with a cultural show highlighting the best of Filipino folk dances. Next on the holiday feast selection is an early Noche Buena at 8:30PM on 24 December 2014. Finally on Christmas Day at 7PM, a Christmas Banquet is on offer to celebrate this joyous occasion. Rate for all feasts is at P 1,307 nett per adult and P 1,098 nett per child. To provide guests with more variety, themed buffets are exclusively prepared at 3PM on the following dates; on 27 December 2014, a luscious "Chocolate Buffet" is specially offered for kids with rate at P 1,000 nett per child and on the 29 December 2014, an appetizing "Merienda Buffet" is on offer to guests with rate at P 1,200 nett per person showcasing well-loved desserts from different parts of the Philippines. An added treat for all guests awaits at the Club Paradise Palawan's resort bars. For the whole month of December, guests can enjoy Christmas Cocktails at Dugong Bar, Shack Bar and the Sand Bar. Guests can likewise enjoy a 50% discount on the featured drink of the day and a free turtle stuffed toy.
After all the merrymaking, a good pampering is perfect for rejuvenation. Glow Spa offers 30% off on the featured spa treatment of the day and 10% off on other massage treatments. Apart from this great offer, the Lumand Treatment, a calming chocolate body wrap and body massage is likewise on offer with rate at P 1,800 nett.
Finally, all is set to usher in the New Year at Club Paradise Palawan. "The Roaring 20s", a special New Year's Eve Dinner and Countdown Party featuring the Silau Band and DJ Dodie Ocampo is scheduled. To start the celebration, Buffet Cocktails is on offer starting at 7PM with rate at P 1, 000 nett per person. A palatial New Year's Eve dinner follows at 8:30PM with rate at P 2,806 nett per adults and Php 1,403 nett per child. Come in your most glamorous 1920s ensemble and get a chance to win a relaxing treatment from Glow Spa or a bottle of wine.
To book any of these offers, please email cp.reservations@discovery.com.ph.
To discover Club Paradise Palawan, please visit the official website at www.clubparadisepalawan.com.
Club Paradise Palawan
Club Paradise Palawan is an exclusive island retreat nestled in Dimakya Island, found in the world famous municipality of Coron, Palawan. This private resort is perfect as a quiet refuge from the city's hustle and bustle. With 55 well-appointed suites catering to leisure travelers with strong appreciation of nature and marine life. Club Paradise offers a variety of tours for guests namely, Coron Island Tour, Calauit Safari, Bottom Fishing and Island Hopping, allowing guests to discover the enchanting beauty of Palawan. Most recently, Club Paradise Palawan is hailed as one of TripAdvisor's Top 10 Most Romantic destinations in the Philippines.
The Discovery Leisure Company, Inc.
The Discovery Leisure Company, Inc. (TDLCI) is a Filipino luxury hotel group offering guests with world class hospitality through their distinguished chains of various accommodation properties in key destinations across the Philippines. TDLCI's collection of properties includes The Discovery Suites, a deluxe accommodation located in the Ortigas Business District in Pasig catering to business travelers and long-staying guests, Discovery Country Suites, a plush countryside bed and breakfast accommodation in Tagaytay, Club Paradise, a private island retreat in the world-renowned Coron, Palawan and Discovery Shores, an award-winning resort in Boracay's famous White Beach along Station 1. As an addition to the distinguished collection of the Discovery Group's esteemed accommodation brands, TDLCI introduces Discovery Primea, a luxury accommodation located in the Makati Business District slated to open first quarter of 2015.