Bañamos Festival to Celebrate 'Healing' Hot Springs of Los Baños - Starting September 14

The Special Science and Nature City of the Philippines, Los Baños, Laguna, will celebrate Bañamos—a unique healing waters festival—beginning September 14 that will highlight the town's colorful history capped by various fun-filled events.
This year marks one decade of the Bañamos Festival in honor of the town's patroness Nuestra Señora de Aguas Santas (Virgin of the Holy Waters).
Bañamos, meaning 'to bathe,' carries the theme "Papuri't Pasasalamat Nuestra Señora de Aguas Santas: Viva Bañamos sa Bagong Los Baños" and which also coincides with the town's 396th founding year as a municipality.
Mayor Anthony Genuino said "Bañamos is a way to thank God for the blessings in Los Baños and for keeping our collective spirits alive in our efforts to promote science, environmental preservation and economic progress."
For almost four centuries, it is believed that people who take a dip in water that emanates from the hot springs near the mystical Mt. Makiling of Los Baños are cured from ailments.
The 10th Bañamos Festival officially kicks-off every September 14 with a showcase of assorted local products such as the world-famous buko pie and other delicacies, handicrafts, organic health products, and construction materials made from recycled plastic. Los Baños is a pioneering local government unit in the country that bans the use of plastic bags in public markets and grocery stores.
The Dia Aguas Santas (Day of the Holy Waters) is set on September 17 where a symbolic public bathing will be held in a hot spring pool blessed with holy water near the Immaculate Conception Parish Church.
A procession called elejer, highlighted by spiritual street-dancing, will also be held where some 5,000 devotees are expected to join. Once gathered near the lakeshore of Baybayin, the devotees will accompany the statue of the patroness as it is mounted to join a fleet of balsa or wide motorized fishermen's boat in a fluvial parade that will traverse a portion of the lakeshore of Los Baños.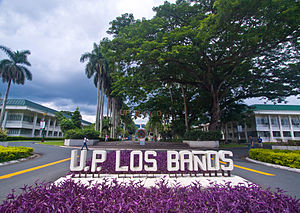 In the early 17th century the town was referred to as Los Baños or 'public baths' by a Franciscan priest named Pedro Bautista because of the locality's abundant hot springs. Public baths were then built by Spaniards after discovering the healing powers of the hot springs.
The Franciscan friars also constructed the Hospital de Nuestra Señora de las Aguas Santas de Mainit in honor of the patroness who is considered, even in modern times, as the spiritual icon of Roman Catholics in this town. The town became an independent municipality in the year 1615.
Mayor Genuino added that Bañamos also aims to further boost the town's tourism potential with other attractions such as Mt. Makiling, Dampalit Falls, Old Pantalan, Tadlac (Alligator) Lake, Mud Spring, Magnetic Hill, along with prominent institutions like the Boy Scouts Jamboree Camp, the International Rice Research Institute, and the UP Los Baños.
Other highlights of the Bañamos Festival include the national dance competition called Bailamos along with street dancing showdown, waterball adventure at the lakeshore, battle of pop and traditional bands, bikathon-for-a-cause, hot spring spa and wellness showcase, town sale or cedera, a beauty pageant, and fireworks display by the lake near the expansive Paciano Rizal Park.
Aside from its prominence in academics, science and research, the area is a well-known tourist weekend or summer getaway because of the town's proximity to Metro Manila and its hot spring resorts and assorted native delicacies.
On August 7, 2000, Los Baños was declared a "Special Science and Nature City of the Philippines" through Presidential Proclamation No. 349 in recognition as a center for science and technology in the development of agriculture and preservation of the environment. (Oji Sanchez-PIO-Los Banos/PIA-Laguna)