Los Baños Surpasses World Records of Largest Number of Public Bathers, Biggest Shower Site
The "Science and Nature City" of Los Baños is a qualifier to the Guinness World Record subject to confirmation of the "most people showering simultaneously" and the "world's largest shower" titles.
Laguna's "nature city" staged its ShowerFest challenging the two standing "Guinness World Records" as it amassed 373 bathers in a merry mix of both public and religious devotees traditionally drenched through the make-shift showers.
In an interview Los Baños Mayor Caezar Perez expressed elation on the turnout of the shower festival that drew 373 partakers bathing in a 394-square meter site as certified to by the History Channel but would have expected a higher record of hot shower bathers.
Mayor Perez said the objective of the ShowerFest is not only to break the current world record holders which the town surpassed by 42 bathers but also to promote Los Baños as a premier tourism destination for its therapeutic hot spring in the famed Gen. Paciano Rizal Park.
Perez looks forward to next year's festival target of 600 to 700 participants in the bathing en-masse in a much bigger public shower site in the same public area.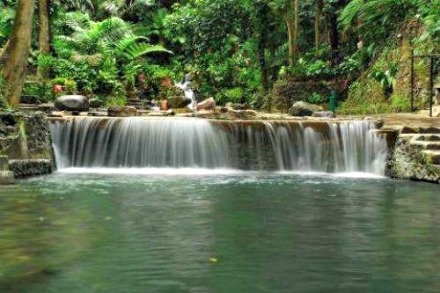 Laguna Hot Springs
The bathing area measuring 400 square meters with the largest shower installation was put up by the Laguna Water District along the southern lakeshore of Laguna de Bay and adjacent to the old municipal hall which currently houses Los Baños' priceless artifacts and historical collections.
Local folks said the water was sourced from the famed miraculous and healing hot springs of Los Baños.
According to Robby Cereno, Bañamos Festival director, the ShowerFest is a tourism strategy to put Los Baños not only in the Guinness World Records but also to attract global attention to the town's four centuries old anniversary celebration and the now bathing icon festival "Bañamos" -- a Spanish term which literally means "let us bathe".
"Bañamos" organizers assured to sustain the town's claim to historical fame as the "hot spring baths capital of the Philippines" with its branding through the town's Spanish term "Los Baños" which means "the baths."
Current record on the most number of public shower bathers simultaneously at a single venue stands at 331 at Delta Faucet in Crawfordsville, Indiana, USA on June 27 last year. It broke Thailand's Pattaya record of 300 participants.
Title holder of the world's largest shower site on record is 372 square meters installed on July 9, 2009 also in the US at the Six Flags Hurricane Harbor in Gurnee, Illinois.
The event was graced by 2015 Binibining Laguna and Ginoong Laguna beauty pageant contenders from Laguna's 20 towns and the reigning and former Miss Los Baños pageant title holders.
Recently crowned queen of the "Mutya ng Pilipinas 2015" (national beauty pageant) Leren Mae Bautista who hails from Los Baños, cheered the Laguna State Polytechnic University and University of the Philippines Los Baños coeds during the mass shower bathing. (PNA) LAP/Robert A. Maico/Zen A.Trinidad/eds