Legazpi Rated as Best Bicol City in Tourism Development by Canadian Snowbirds

The over 300 tourists from Canada who arrived here as snowbirds ended their four-day stay with a rating of this city as Bicol's best in hospitality and tourism development, Mayor Noel E. Rosal said.
When you set foot in Legazpi, this is the one-stop shop in Bicol from where you can go anywhere you want, with its beautiful and friendly people. Tourism development here is excellent," Rosal quoted the guests as saying when he saw them off at the city airport.
The visitors, mostly Filipino-Canadians, were participants of the 3rd Winter Escapade, the customized tour organized to escape their country's sub-zero winter season temperature arrived in the city via a commercial flight from Manila last February 4 and stayed until February 8 after visiting leading tourist destinations in the city and some parts of Bicol.
The annual tour, now on its third year, is jointly organized by the Philippine consular post in Canada and the Canadian Embassy in the Philippines.
In a statement reaching here Monday, Vancouver Consul General Neil Frank Ferrer said this year's travel itinerary and tour packages featuring Legazpi, which is known in the travel industry world as the City of Fun and Adventure and other tourism sites in the region, attracted more participants not only balikbayans but also mainstream Canadians.
They really want exciting and new places to visit, and the irresistible choice was Bicol, with Legazpi as their main stop owing to the city's world-class accommodation facilities, one-stop shop location, eco-tourism wonders, exotic cuisine and warm hospitality, according to Ferrer.
Last year's travel Winter Escapade, which drew only around 200 participants led by Philippine Ambassador to Canada Petronila Garcia, traveled to Dumaguete, Siquijor, Bohol, and Cebu.
On their arrival here on February 4, the group was warmly welcomed at the airport by Rosal and Department of Tourism (DOT) Regional Director Maria Ong-Ravanilla before they were ushered to their hotels of assignments for billeting.
They went afterward to the Mayon Skyline Park and Rest House in Tabaco City to commune with the majestic beauty of Mt. Mayon.
On the next day, they were divided into four groups for separate tours in Camarines Sur, Sorsogon, Camalig town of Albay and the rest of the province.
The Camarines Sur group visited the Metropolitan Cathedral, Holy Rosary Minor Seminary, Archaelogical and Ecclesiastical museums and Porta Mariae -- all in Naga City -- and the watersports complex in Pili town.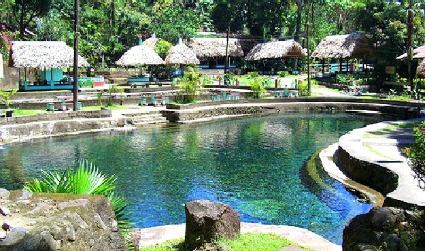 Irosin Hot Springs, Sorsogon
The Sorsogon group went to Bulusan Lake and Irosin Hot Springs with stops for karagumoy handicrafts and pilinut products while the Camalig tour included Busay Falls and ATV (all-terrain vehicle) adventure, visits of Hoyop-Hoyopan and Calabidongan caves, Quitinday Hills dubbed as the Chocolate Hills of Albay and Kitwinan Hill, considered as the highest point in the municipality and sits right at the very foot of Mt. Mayon.
The Albay tour was highlighted by handicrafts shopping at the Cagsawa Ruins Park in Daraga town, culinary fusion featuring the super hot and mouthwatering Bicol Express and demonstration on pinukpok abaca textile and geonet making.
On February 6, all the visitors stayed overnight at the posh Misibis Bay Resort in Bacacay, Albay and, on the next day, were allowed to venture on each of their own here for souvenir shopping, visit of the Ligñon Hill Nature Park, physical fitness activities, sight-seeing and convergence with the city people at the Legazpi Boulevard.
On February 8, Rosal arranged a direct flight from here for the entire group to Palawan after their flight to Manila from where they were scheduled to be flown to the same island destination was cancelled due to unfavorable weather.
The group returned to Canada last February 12, still leaving the words that this city is best in all aspects of tourism—accommodation, foods, fun and excitement, adventure tours, healthy environment, natural wonders, good roads, shopping malls, souvenir items and hospitality, among others, according to Ferrer.
They took home from this tour not just photos and souvenirs but lasting impressions of local communities that have taken ownership of local economic development through tourism, Ferrer said, adding that anywhere they went in Bicol, the group was welcomed and entertained by the young and old from both government and private sectors.
Also on Monday, Rosal said, these snowbirds look for new and unique destinations every year, during the winter season and this year they preferred Bicol, specifically Legazpi, because no other destination can offer them natural wonders and so many options and attractions to visit.
"The group, particularly the Fil-Canadians, ended its stay and tour in our city with deep expressions of gratitude for reviving their Filipino spirit and for making their rediscovery of the place a resounding success," he said.
Their experiences in Bicol reinforced their faith in the region, the Bicolanos and the Philippines as well as they look forward to taking the same itinerary for the Winter Escapade 4 for them to enjoy more the beauty and hospitality of the place, the mayor noted.
The coming of these Canadian tourists, he said, added another feather to the cap of the local tourism industry which is taking a crucial role in the city's pursuit of inclusive and horizontal growth that will benefit not only big investors such as hotel and resort owners and operators but also the people in the countryside where most of tourist destinations are located, he stressed.
Tourism provides more opportunities for employment and business ventures in the countryside and parallel with these developments, what the city government is doing is improve its capacity to accommodate more tourists, taking into consideration that the city is also fast emerging as one of the country's convention capitals.
"We are now hosting an average of over 50 big conventions and similar occasions yearly, bringing in to the city around a million visitors each year. So far, we only have more than 2,000 hotel rooms that can accommodate in one occasion some 5,000 people," Rosal said
Hence, he added, more accommodation facilities are needed, that is why the city government has been encouraging and attracting more investors to venture into this endeavor and the responds are very encouraging. (PNA)LAP/FGS/Danny O. Calleja/CBD